Deathwish might have been a better title for this article, but it was previously taken.
Getting beyond my struggle for an appropriate title, I will be recommending Vincent Gallo's Buffalo 66 and Werner Herzog's new documentary, Grizzly Man.
Although intrinsically different, these films are linked through leading men possessing a similar fate: their chosen courses of destruction, if followed, will lead to their violent death.
It may also be argued that each man's true goal is suicide, pathetically cloaked by dramatic pretense. Both films are multi-dimensional, thankfully transporting them beyond my grim and simple introduction, and onto more rewarding realms of cinematic satisfaction.
Vincent Gallo starred opposite of Christina Ricci in his amazing directorial debut, Buffalo 66, which was released in 1998. As a mere oversight, this movie was sadly omitted from my Valentine's Day article. Describing the pair's initial meeting as random is almost an understatement. A relationship evolving under such circumstances is almost inconceivable, but love is a mysterious thing. Gallo was able to reveal enough humanity through his character's vulnerability to just make it plausible. The film amplifies anxiety, awkwardness, obsession, and insecurity like few others. Family disfunction and isolation are at its core, and Gallo employs interesting camera angles and points of view to convey the toll from difficulties and emotional instability.
The well incorporated "Prog-Rock" soundtrack, like the movie itself, is unique. Buffalo 66 has a highly stylized climax, and a wonderful ending. This one also has the distinction of bearing my favorite tap dance scene in a film (not the best technically, but surreal; the way I like it).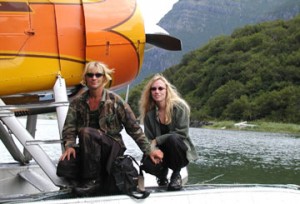 A man named Timothy Treadwell is the focus of Werner Herzog's documentary, Grizzly Man. You find out early in the story that Treadwell spent thirteen summers in Alaska living among grizzly bears. He shot over 100 hours of footage during his journeys, before his life was ended by a bear attack.
The shots of the bears and nature are incredible to watch. Beyond that, there are many interviews with friends, colleagues and critics. Herzog narrates nicely and offers his own interpretation at times. Seeing Treadwell's behavior in front of the camera and hearing about problems he had in life make it hard for the viewer to resist drawing conclusions about him.
Treadwell's motives as a conservationist are questionable; especially as you watch him interfere with natural order. His world view seems skewed through rose-colored glasses in unrealistic and overtly idealist fashion.
The real tragedy may be that the young lady next to him (in their last picture taken above) was also a meal for the hungry bear. Herzog is a great director and has shot many films in the unforgiving backdrop of wilderness. It only seems natural that he was drawn to this project.
Grizzly Man is destined to be a controversial topic of discussion, and can be hard to watch as your opinions continue to mount.
Until next time, I hope you have a great viewing experience.  Comments are welcome at cinespire@gmail.com.