Alejandro Jodorowsky boasts that he is the father of the midnight movie. He was born to a Russian Jewish couple who had emigrated to Chile. Later he would become a citizen of Mexico, and was naturalized in France, although Mexico is where he has spent most of his life.
His studies are vast. Theatrically, Jodorowsky is versed in the art of mime, marionettes, surrealist theater and film direction. Spiritually, Jodorowsky has seemingly studied all of the major religions and is passionate about ancient beliefs, especially those involving the Tarot. His ultrasurrealist films reflect the spiritual quest. Jodorowsky said, "I ask of film what most North Americans ask of psychedelic drugs. The difference being that when one creates a psychedelic film, he need not create a film that shows the visions of a person who has taken a pill; rather, he needs to manufacture the pill."
Yes, and manufacture he does . . .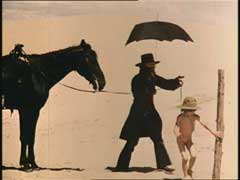 El Topo (1971) is a Mexican Western in which the lead character, bearing the same name and meaning the mole, sets out to avenge the murder of his wife with his naked son in tow. He is soon led on a metaphysical journey, in which he is to kill the four top gunfighters in the region.
Jodorowsky himself plays the lead, and his real-life son Brontis, portrays the character's son. The Beatles' manager, Allen Klein produced this midnight-movie gem.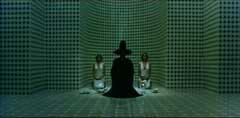 Holy Mountain (1973), also produced by Allen Klein, is a much more ambitious work. Jodorowsky plays a master alchemist and spiritual guru who leads his disciples on a spiritual journey to seek their immortality. It was reported that he and his cast were spiritually trained and lived commune-style for at least a month before production. The Tarot is only one of the many ingredients which help make The Holy Mountain a rich surrealist and visionary work.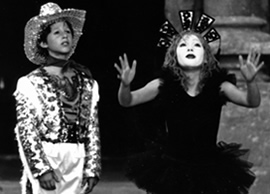 Santa Sangre (1989), produced by Claudio Argento (Dario's brother), is the most accessible of these three films for a general viewing audience. Partially so because it does not feel as dated as his midnight movies of the 1970s. It also has the strongest narrative. The film follows a boy as he grows up in the circus, and onward into his manhood where he deals with the terrors of the past and present. Santa Sangre also benefits from family participation, as the lead character is played by the director's son, Adan Jodorowsky.
Until next time, I hope you have a great viewing experience.  Comments are welcomed at cinespire@gmail.com.