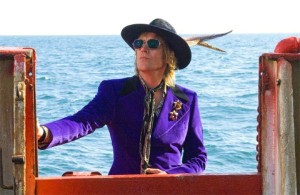 Pirate Radio reads like a '60s rock enthusiast's answer to Almost Famous. Set amidst the backdrop of a laughably uptight British government, an inexperienced teen finds himself on board a pirate radio ship full of miscreant DJs and immoral fornicators who teach him how to let loose and come of age. With a golden cast of foreign funnymen playing the freewheeling nautical dream chasers, including: Nick Frost (Shaun of the Dead and Hot Fuzz), Rhys Darby (Flight of the Conchords), and Chris O'Dowd (The IT Crowd), Pirate Radio could have been an Almost Famous for the British Invasion.
The film is hindered firstly by the inclusion of Almost Famous cast member Philip Seymour Hoffman. Here, he does his best to reprise his role as the pretentious record nerd who puts on a cool exterior in a lame attempt to hide a personality deficiency. Not that any character in Pirate Radio is particularly well drawn. The "villains," two repressed British Parliament agents played by Kenneth Branagh (with Hitler hair and 'stache) and "Coupling's" Jack Davenport (the unfortunately named Twatt), present such an obviously worse life-style alternative, all stiffness and vinegar, as to lift the crew of the Radio Rock to sainthood. Though the crew and villains are no less likeable for being dimensionally challenged, the film itself falters for lack of any tension that could be created by grey areas.
What results instead of a real story involving real people is a series of humorously entertaining vignettes with quote-unquote "poignant" musical montages peppered throughout. Add to that countless more montages of random city-folk dancing to pop tunes randomly wedged in to ensure we understand the "importance of rock 'n' roll" and the film is left with little room for a truly involving story. If anything, the film (like The Beatles Rock Band) commendably succeeds at introducing new generations to some really good music. Unfortunately, time-tested 50-year-old rock classics do not a good movie make.
Though Pirate Radio is perfectly enjoyable in pieces, it becomes stagnant over the course of two hours due to the filmmakers' heavy reliance on self-contained scenes and musical montages, which is a shame. It would've made for a hilarious television series.