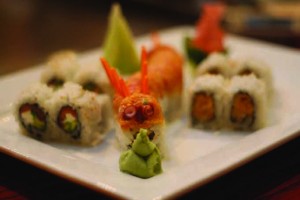 The Wasabi Japanese Steak House, located at 2812 Old Fort Parkway, is a one-stop eatery for all of your favorite Japanese Cuisine. Be it sushi, sashimi, hibachi or even teriyaki, the Wasabi Steak House has it.
The restaurant is in a small shopping center on Old Fort Parkway just west of Interstate 24. It occupies the corner spot, but don't let the small storefront fool you. Once inside, the space opens into a large restaurant and bar. The modern decor and calm lighting set an excellent mood for your dining experience.
There are two dining rooms. The first is a traditional-style dining room with booths lining the wall.
In the center is a sushi bar flanked by a full bar, which has all your beer and liquor favorites alongside specialty Japanese imports. Also available are traditional and flavored sakes such as plum and raspberry. I tried the plum and it was very smooth and served chilled.
The second dining room is just beyond the bar and houses eight hibachi grills.
If you have never eaten at a hibachi restaurant there are a few things you should know. First it is as much a show as it is a meal. The food is cooked right before your eyes by a spatula twirling, egg juggling, flame throwing comedic entertainer.
"Hibachi is about the person," said Wasabi owner Mike Zhuo. "The cooking is the easy part; the show is the hard part."
Hibachi is not always your zip in and zip out, so be prepared. As you may have guessed, the cooking experience occasionally takes some time and you may also share your grill with other patrons, as there is seating for eight around the grill.
Zhuo is both a master of the grill as well as an artist at the sushi bar. Zhuo opened Wasabi four months ago after finding success with his first restaurant in Rivergate.
He learned the art of the business from his family in Atlanta and chose the middle Tennessee area as the spot for his own endeavors. He hopes that the success of Wasabi in Murfreesboro will allow him to continue to expand, as he has an eye on Tullahoma.
The full sushi bar offers your favorites as well as very reasonably priced specialty rolls. And by reasonably priced I mean about $8, which is rare for specialty rolls.
To start, I ordered a spicy yellow tail and the specialty Fire Dragon Roll, which consists of spicy tuna, flying fish roe, scallions and crab meat. The Fire Dragon Roll came out looking like-well-a dragon about to take a big bite of the piled wasabi sauce. The top of the roll was covered in a spicy fish that complemented but did not overpower the overall taste of the roll. It's perfect for those who like a bit of heat, but aren't planning on entering any atomic chili competitions.
A hibachi style dinner at Wasabi ranges from $14.95 to $26.95, and the food ranges from the simple chicken to a fancy filet mignon and lobster combo. Each meal includes soup, salad, fried rice, veggies, dipping sauces and your desired meat. Though a strictly veggie meal is available for $9.95.
I ordered the steak and scallops combo for my meal. The chicken based soup was a nice start. The salad dressing is a flavorful blend of ginger, soy and other Japanese flavors. A generous portion of fried rice and grilled veggies make a nice base for the meal. The scallops were tender, well seasoned and cooked perfectly, which is not easy to do. The steak was cooked to temp and juicy. It was chopped and mixed with the rest of the meal, so don't expect a steak like you would find at a roadhouse or American-style restaurant. But it is flavorful and satisfying.
Kids can also get in on the action. Kids' hibachi meals range from $7.95 to $10.95 and include chicken, steak and various seafood. But parents don't fret; if you have the picky eater Wasabi has the kid meal staple of chicken fingers and fries to ensure everyone leaves full and happy.
So sushi, hibachi and sashimi are not your bag? You can always try one of the other specialties like the shrimp teriyaki or sesame chicken.
If you can find room after all that then you can end your experience with a slice of cheesecake, wonton cobbler or various other desserts for about $5.
Sound good, but too expensive in these tight economic times? Well good ole Mike has thought of that too. There are hibachi early bird specials from 4 p.m. to 6 p.m. all week long that start at $11.95. He has also recently added hibachi lunch specials that start at $5.95 and include the soup, salad, fried rice, veggies and meat that come with the dinner entrees. And you can get two sushi rolls at lunchtime for just $6.99.
The overall experience was fun, flavorful and satisfying. The only drawbacks of hibachi are the time and the price, but don't blame Mike or Wasabi's as that is just the way things go.