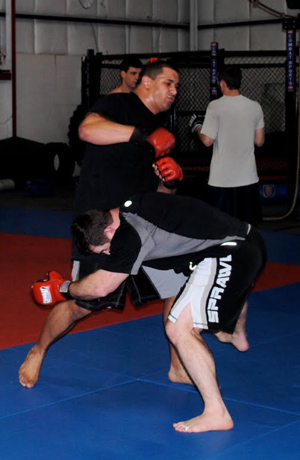 The Mixed Martial Arts Association of Middle Tennessee State University, along with Guardian MMA, is bringing organized ultimate fighting to Murphy Center, Saturday, Feb. 6.
"The evening will showcase the talents of MMA artists from around the country," said Anthony Gomez, MTSU club president. "We are proud to welcome as our special guest retired UFC champion Ken Shamrock that evening to meet and greet the public and sign autographs."
Shamrock will be available to sign autographs when the doors open at 5 p.m. The competition will get underway at 7 p.m.
Tickets are now available through the MTSU Ticket Office or Ticketmaster at $16 each for MTSU students with MTSU ID, and $21 each for the general public. Special VIP ringside seats are available for $35 each.
Three percent of the proceeds will be donated to Disabled Veterans, Vanderbilt Children's Hospital and Women Against Domestic Violence, Gomez noted.
For more information, contact Gomez at (615) 796-3919 or agg2m@mtsu.edu.