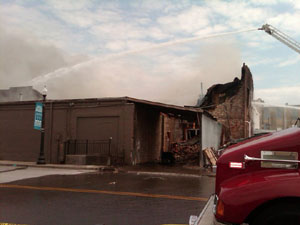 The morning of Saturday, March 20, a blaze erupted on West Main Street just off Murfreesboro's square that destroyed the building housing Music City Medical Supply and badly damaged and closed down 3 Brothers Deli & Brewhouse. The fire originated at the medical supply store at 219 W.
Main St., and when parts of that building eventually crumbled, the rubble crushed the restaurant next door, according to Jeff Parnell, one of the partners who owns the 221 W. Main building that most recently housed 3 Brothers Deli, as well as Tomato Tomato, Casa Burrito and Kebab Cuisine in the past.
"Their second story fell on our first story; that caved in our roof," he said, adding he expects the building to be rebuilt despite a great deal of damage.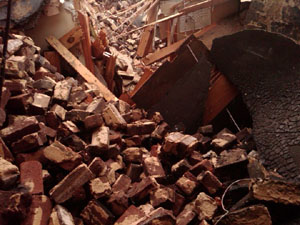 3 Brothers owner Eric Fortney is clearly disappointed after just opening his business a few months ago, but admits plenty of worse things can happen. He was at not at the restaurant that Saturday morning, but some of the staff were.
"I got the call that the building was on fire and I was like 'whatever,'" said Fortney; the kitchen manager was the type to joke around with stuff like that. "When I realized he wasn't kidding, I immediately went to panic."
Fortney says both he and the landlords are "optimistic" 3 Brothers will eventually be able to reopen at the current location and added that the city has really banded together. Many of 3 Brothers servers and kitchen staff are interviewing with Chuy's and Old Chicago in an effort to stay employed and Fortney said in addition to those restaurants he is also very grateful to the Murfreesboro Fire Department, whose hard work he saw firsthand.
"I don't know how they saved both Concert Productions and our building from total destruction," Fortney said. Across the square, Blue Rooster will host a benefit for 3 Brothers on Wednesday, April 14.