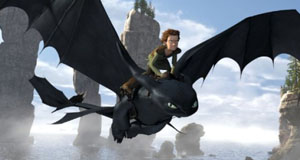 DreamWorks Animation has been going through a bit of a "one step forward, two steps back" rut for the last few years. For every Kung Fu Panda, we've seen mediocre final products through the likes of Shrek the Third, Bee Movie, Madagascar 2, and most recently, Monsters vs. Aliens. While kids still love these films, they just haven't been able to consistently appeal to the parent and adult audiences in quite the same way as its own Shrek films have, let alone Pixar's entire library.
Well, file How to Train Your Dragon under "one step forward."
Set in the mythical time of Vikings and dragons, a young teenager named Hiccup has always struggled to fit in with his tribe and its long history of dragon slayers. One day in the middle of the forest he stumbles upon a rogue dragon that turns his world upside down. As he tames, trains, and befriends his new companion, Hiccup must strive to teach his own people an entirely new way of thinking in regards to the creatures.
For Dragon, DreamWorks enlisted the writers and director of Disney's 2002 hit, Lilo & Stitch. Dean DeBlois and Chris Sanders have given this film the dramatic depth sorely missing from the majority of the DreamWorks Animation library. But in doing so, they never lose touch with the energetic and upbeat storyline that will keep kids entertained throughout.
The animation itself is the richest and most detailed from the studio to-date while the 3D not only feels natural but does give some extra weight to a few scenes, especially during Hiccup's first ride on Toothless (the name he gave his dragon). The film's 3D prowess does truly rival that of Avatar.
The film's exposition does stretch out a bit and this is not an original concept by DreamWorks (it was adapted from a children's book), but those are about the only points that could possibly be taken away from the film. Featuring a fantastic cast of voices perfectly suited to their characters, as well as an adventurous musical score, How to Train Your Dragon is not only one of the best DreamWorks Animation films yet, but it is near Pixar-worthiness in its ability to endear the audience toward Hiccup and a dragon that never speaks a word yet tugs at the heartstrings every time you see his face. Undoubtedly, there is something here for all ages.