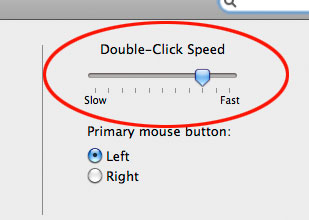 Dawn writes:
I have a MacBook Pro and my daughter was using it and she changed something and now I can't double-click on anything to open it. When I click a file or folder it gets the little outline on the icon but it won't open!
Do you have any idea what she changed and how to change it back?
Thanks for the question, Dawn.
Chances are good that your daughter changed your mouse/trackpad's double-click speed. If she set it too high you would literally have to double-click very, very quickly in order for the Mac to register it as a double-click and not a single click.
Open System Preferences from the Dock or the Apple menu, and go to Trackpad (or Mouse if you're on a desktop Mac).
Look at the Double-Click Speed slide control. Try sliding it to the left, towards Slow, and then go to the Desktop and try double-clicking something. If it still doesn't open, go back to the slider and move it a little more towards Slow.
I bet that fixes your problem!
Thanks for writing in, Dawn, and anyone else is invited to send me your questions and I will do my best to put together a tutorial for you. All throughout the month I answer more questions and post other useful Macintosh and iPhone related articles on the website, so go over to boropulse.com and look in the Scoop section for my stuff!