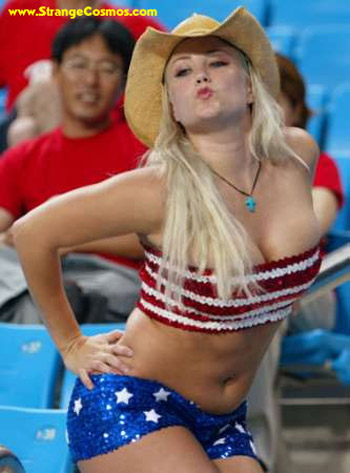 What's up my loyal readers of the great city of the 'Boro? The Z-Train is ready to roll a fat one and let all my fans take a hit of the fire I am putting out there.
The sports chosen one is ready to type up another masterpiece and dedicate it to Bill Clinton and the American Soccer Club.
There are many types of sports fans here in America. We have die-hard fans that live, breath and eat sports. There are beer drinking fans that pick a side and use it as a reason to smash beer and scream. There are hater fans; these fans just follow their significant other, who is a die-hard fan, and just moan and complain. The worst fans of all sports fans are the bandwagon fans. These punks really tickle my pickle.
These fans love to smile and cheer and support their team when things are all good in the hood. But when things aren't so good in the hood, these punks are nowhere to be found, or they have found another team's wagon to jump aboard.
As for the Train Daddy and his crew, well, from the bottom of our hearts, we are a bunch of hell-raising, American loving, Tennessee Titan code blue bleeding fools who love sports. So I will take a moment here and say I hope after the whole country watched some inspirational U.S. soccer games, that some die-hard fans were born!
So let's talk about what the rest of the world calls football. Here in the USA we refer to it as soccer, and for as big as soccer is worldwide, it doesn't even crack the top five professional sports in America.
The World Cup brings out some of the best die-hard fans in the world. The passion these countries have for their soccer clubs is something special that brings fans, athletes and countries together as one.
I bleed red, white and blue and so passionately want soccer to expand in America. It's all about pride, entertainment and bragging rights. International soccer is full of great actors hoping the next whistle will go their way, but I can't deny the athleticism and precision these athletes have. These athletes are on such a big stage and stay professional at all times.
Soccer will go on after the excitement of the World Cup. I just hope that here in America the tournament and the USA team were enough of an inspiration to change people's thoughts on the game.
I was inspired by the play of the Americans in this 2010 World Cup. They gave up early goals and came back from too many deficits and it eventually caught up to them. The team gave us cheers, it gave us groans and we hands down know that Landon Donovan is the player we thought he was.
There is still plenty of exciting soccer left to be played, and I got my money on the winner of the Germany-Argentina game.
Well, I can't wait for some Tennessee Titans talk; we need to get that speedy bastard C.J. in camp. He wants $30 to 40 million guaranteed. Is he deserving of it? I don't know.
I do know that he won many games for us and is the most exciting playmaker in the league. I also know that he signed a contract and has two years left before he was supposed to start bitching about money. I don't like the path he is taking to get it resolved, but it will all play out.
Until next time my people, the Train Daddy is riding out of the station. Much love!
World Cup Fast Facts:
– The best finish for the U.S. team in World Cup play was in the inaugural World Cup competition in 1930 when it placed third.
– The Italian team is the reigning World Cup champion, but Italy did not advance past group play in 2010.
– This year South Africa became the first host nation to not move past group play in the World Cup's 80-year history.
– Brazil leads all nations with five World Cup titles.
– Cobi Jones leads the U.S. national team 164 caps, or appearances in international matches.