There are places that we all just sort of migrate too. When you got no particular place to go, when you just want to kick back a few cold ones or get that comfortable meal in a familiar place. Well, Mark & Pat's Handlebar sure fits that description. Since Mark and Pat Carter opened the place eight years ago in the former Little Brown Jug location at 2601 E. Main St., they have managed to maintain that familiar feel, while all the while changing and improving the place. They have remodeled the place inside and out, adding an indoor stage, a big outdoor band stage, covered bike parking, a volleyball court, horseshoe pit and another bar just for the outdoor activities.
There is always something going on at The Handlebar.
"We do a lot of benefits for people who have had serious injuries or illness, friends and neighbors that need our help. We have helped raise money for burials, cancer and heart attack victims and those that have had accidents and can't work," says bar manager Barb McCorkle.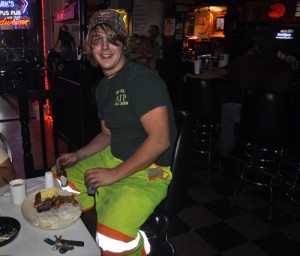 On Aug. 7 HandleBar had a benefit bike run, bake sale, raffle and auction for regular Mike Jones, who suffered a stoke and now can't work.
McCorkle went on to add that they also do benefits for Limbs Across America, an organization that provides prosthetic limbs and they do a Muscular Dystrophy Lock Up every year. went on to add that they also do benefits for Limbs Across America, an organization that provides prosthetic limbs and they do a Muscular Dystrophy Lock Up every year.
The Handlebar enjoys a large crowd of regulars, some come in everyday. Since it's open 24 hours a day, they have more than one regular crowd. Some come in early for breakfast, some you see at lunch and of course there is an evening crowd. Mark & Pat's has a big menu and it's available 24/7.
"We get a big crowd when the other bars close, because we have good food and the prices can't be beat" says Barb. Breakfast is always available, but they run a special on Fridays and Saturdays starting at 1 a.m. It's a huge breakfast plate including bacon, sausage, eggs, pancakes, hash browns, biscuits and gravy all for 5 bucks. There is also a daily meat and 3 for $5. The menu changes everyday except Friday, that's always catfish day. Friday is also steak night, from 5-9 p.m.; you can get a rib eye and the fixins for $10. Now, that's a deal that's hard to beat.
The menu also includes hamburgers, hot wings, pizza; pulled pork BBQ, slow cooked by Mark, shrimp baskets, salads and my personal lunch favorite, the Billy Bologna Sandwich. Named after a costumer who always wanted his sandwich a certain way, it's an inch-thick slab of fried bologna with lettuce, tomato and mustard on wheat toast with a pickle on the side . . . well, that's how I like it, you can get your sandwich however you want it.
On top of all the other goodies, there are daily drink specials including Pabst Blue Ribbon draft, $1 all the time. On Mondays if you wear your Handlebar shirt you get your first beer free; Tuesdays, it's 2 for 1 on all drafts all day; Wednesday, they pull out the Cornhole game (no, not that, it's the game where you toss little bags of corn at a board with holes in it . . . you have a dirty mind), and when you buy a bucket of beer, you get 10 free wings. Thursday is ladies night, with drink specials for the ladies all night. Fridays draw a big crowd for Karaoke with Dewayne, Saturday is band night with no cover and on Sundays, free food during NASCAR and other sporting events.
Hmmm, I think I'm gonna go and get me a Billy Bologna sandwich, maybe I'll see you there.