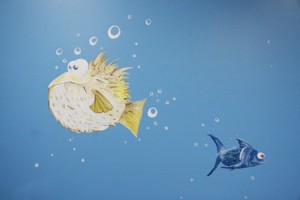 If the average person had a thousand cartoon characters running around inside their head it would probably make them insane. But insanity and genius are closely related, and in the case of Christina Cudworth, having a thousand or more cartoon characters screaming for attention equates to artistic genius.
I first met Christina when she came into my business, Cornerstone Cheesecakes and Gifts, in search of a place to sell her emu eggs . . . yes, emu, like the ostrich, only smaller. But hers are not just any emu eggs. Among Christina's many artistic talents, she carves intricate, artistic patterns into the shells of emu eggs. And she is passionate enough about her art that normal emu eggs are not good enough for her—she has searched out naturally blue emu eggs.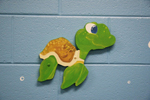 But emu egg carving is only a tiny fraction of what Christina does. Born in Texas and raised in California, Christina, her husband and three children have been Tennessee residents since 2006. Her creative talents include creating wall murals; drawing with colored pencils, graphite and pen and ink; watercolor, acrylic and oil painting; sculpting; paper crafts; carving and etching; mixed media art; and cartooning and manga. She is an artist extraordinaire, and she is a teacher.
Christina is now teaching classes, managing new artists and directing the new art studio and gallery called Pipe Dreams at Cornerstone Cheesecake and Gifts. Every Friday from 7–9 p.m. Chris teaches a manga class at Cornerstone, located at 211 Robert Rose Dr., just behind Home Depot. The cost for the class is $15 per night, and advanced registration is required. Anyone can participate regardless of ability level.
But what is manga, you ask? If you have teenagers in your household, they could probably tell you, but manga is Japanese for "comics" or "whimsical images." It is often considered the book form of a Japanese-influenced style of cartoon animation called anime (pronounced ann'-ih-may). Manga has become one of the fastest-growing segments in the book industry in the last few years, and Chris is a manga expert.
Chris has been influenced over the years by Chuck Jones, the delightfully creative genius behind the well-loved characters of Bugs Bunny and the Road Runner. She is also a huge fan of Industrial Light and Magic, the sci-fi/fantasy/alien creators responsible for giving us the images of Star Wars.
Not only does Chris have numerous, whimsical cartoon characters clamoring to get out of her head, she also has terrifying monsters and other-worldly aliens that defy description waiting to be created as the need arises. Every Saturday evening, she teaches a fantasy art class for any level of participant.
Her portfolio includes murals on walls in private homes, doctor and dentist offices, retail shops, churches and schools and in store windows. Consultation for murals or other art projects is free. A schedule of Christina's upcoming classes can be obtained by calling (615) 907-3450 or by visiting Christina's website, cudworthcreative.org.
Christina Cudworth has dedicated her professional life to art of all kinds. She is passionate for creating art and equally passionate about helping others to develop their abilities and appreciation for art. Stop by and meet Christina in person at Cornerstone, enroll in one of her classes or pick up an emu egg. The experience is sure to enrich your life.