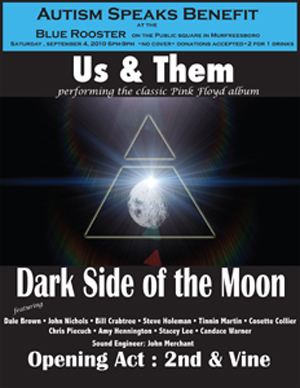 The Pink Floyd tribute band Us and Them will perform Pink Floyd's best-selling album Dark Side of the Moon on Saturday, Sept. 4, at The Blue Rooster on Murfreesboro's Public Square to benefit Autism Speaks.
There will be no cover charge for the benefit event, which begins at 6 p.m., but donations for the nonprofit organization will be appreciated.
Us and Them includes MTSU recording-industry professors Dale Brown, Bill Crabtree and Cosette Collier, and Amy Hennington, a computer-information-systems professor, as part of a 10-piece band. Us and Them features three keyboard players, a guitarist, a bassist, a drummer, a saxophonist and three background vocalists.
John Merchant, a fellow MTSU recording-industry professor, has been recruited as sound engineer for the live event.
The idea to perform Dark Side of the Moon, Pink Floyd's most commercially successful album, arose during rehearsals for a cover band called 2nd & Vine, which features Brown on bass and vocals, Crabtree on drums, Collier on keyboards, Hennington on vocals, Steve Holeman on guitar and vocals and Stacey Lee on vocals.
Brown, who also plays keyboards and guitar, and his longtime friend, keyboard player John Nichols, always wanted to try to perform the famous recording, including every musical part and sound effect, since they first heard it in the early 1970s. It quickly became apparent, however, that the group would have to recruit additional help from other musicians and friends to perform all the complex musical parts.
The additional musicians joining 2nd & Vine and Nichols are MTSU alumnus Tinnon Martin on bass, Memphis-based saxophonist Chris Piecuch and background-singer Candace Warner. The result has been a faithful recreation of the entire album "from the first heartbeat to the last," Brown said.
Dark Side of the Moon, which has sold more than 15 million copies in the United States alone, spawned two singles, "Money" and "Us and Them."
2nd & Vine will play the opening set at the benefit, followed by Us and Them's performance.
For more information, contact Brown at (615) 479-3183 or djbrown@mtsu.edu or Holeman at (615) 995-6013 or steve@steveholeman.com.