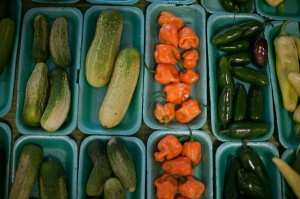 A girl's first visit to a farmers market should be held on the same level as her first school dance or learning how to drive. It's a coming-of-age necessity that not everybody gets to experience. The Murfreesboro Saturday Market is everything I hoped it would be. I got the opportunity to sample a few, unique, local treats and get to know a few of the growers.
Thirty years ago, federal legislation established that real farmers markets are to be operated by the farmers themselves, by municipalities or by non-profit organizations. This is to ensure the quality and integrity of the products sold at the market and to keep out unnecessary vendors that don't fit the bill. There's nothing more frustrating to a grower than to see a customer walk up to their stand with a corn dog in one hand and a macramé hammock in the other and say, "I have 75 cents left. What can I get for that?" True farmers markets concentrate on farm-grown produce and plants, not mass-produced food and crafts.
Vendors at the market are selling out of baked breads and sweets, canned goods, locally roasted coffee, fresh-cut flowers and even locally made fresh pasta and sauces. The Saturday Market still features typical farm-fresh produce, and all the vendors are required to operate out of Middle Tennessee farms in order to sell their own produce.
"Our vision, especially rolling out this first year, is to stick to Tennessee-grown fruits, veggies, baked goods, honey, herbs, plants and cheese, that kind of thing. Simple and down-home feel, relaxed and casual," said Kathleen Herzog, market manager.
2010 is the first year of the Saturday Market, and it has been met with great success.
The market is full, with around 57 vendors packing in their home-grown and homemade goods every weekend. You can find pies, dairy products, herbs and vegetables you can't usually find at your typical grocery store.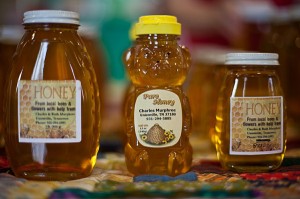 As I approached the Kurtz Nursery booth, I couldn't help but to wonder, "Why have I never bought mustard greens before?" The grower from Kurtz was very helpful and more than happy to give me a few tips as to how to use them and what to pair them with.
I came home with a sugar baby watermelon, which was also something I've never tried before. Smaller and sweeter than regular watermelons, sugar babies are worth the trip and perfect for a picnic on a hot day. Another can't-miss at the Saturday Market is watermelon salsa. The perfect combination of sweet and hot, it's a refreshing take on an old standard. I find it best with dense crackers, grilled bread or tortilla chips. Marcy Jams! blackberry jam is my new favorite breakfast treat. I can't wait to go back to try their other unique varieties of jam. On the ticket for next time: Freshly made lobster ravioli from Alfresco Pasta and Papa C's pies.
Be sure to ask about shelf life and storage procedure. Most market produce is harvested the day before the market, so it will usually last up to two weeks longer than grocery store produce. On the same level, produce is picked at its peak ripeness so it may have minor sugar spots or harmless dents. Don't let the appearance fool you—market produce is not waxed and polished to catch the eye of the bulk shopper like grocery store produce usually is.
A visit to Murfreesboro's downtown square on Saturday mornings this summer may yield more than a few surprises. Since the staff at Main Street introduced their Saturday Market on June 5, residents and visitors alike have been flocking to the new market, and not just for tomatoes, corn and other fresh, local vegetables.
If you've never been to a real farmers market before, you will undoubtedly encounter some unusual produce. Don't be too shy to ask the vendor for advice. Pick their brain about how to clean, peel and seed the produce as well as how to cook it. Maybe you'll even be lucky enough to get a recipe to take home.
According to Kathleen Herzog, who runs Murfreesboro's Main Street program, the Saturday Market appeals to a variety of potential customers. "Markets like ours are very appealing to customers who want to support local agriculture and family businesses. These customers know they are getting a fresh product and that their money will remain in Middle Tennessee," she said. Herzog added that the time, day of the week and location are also factors in the market's success. "We have a lot of customers who find it easier to shop on the weekends, others who like that our market doesn't begin until 8:00 a.m. and still others who prefer our historic downtown setting."
Don't let the dollar signs scare you away. The higher market prices are easily validated by quality, taste and variety. The experience alone is worth paying the extra thirty cents.
The downtown community has also been able to reap the benefits of a local market. Area merchants have seen increased traffic as market shoppers stay to visit the retail stores and restaurants downtown. "Some of our restaurants are doing an amazing business for breakfast, others see a big lunch crowd, and the retail shops are seeing first-time customers visit their stores after coming to the Saturday Market," Herzog said.
The Saturday Market is located on the inner circle of the Rutherford County Courthouse. It is open every Saturday through Sept. 25 from 8 a.m. until noon. Contact Main Street at (615) 897-1887 if you have questions about the market or to apply to be a vendor.