I have two Mac tips for you this month, ladies and gentlemen. Well, 3 actually, and 4 if you count the email one as two. Alright, enough math!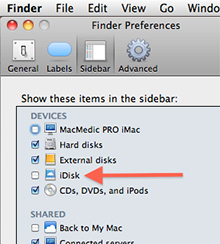 Lose the iDisk and turn off empty trash warnings
iDisk is a part of AppleMe web services. For $99 a year, you get online storage and a few other things. But if you don't use MobileMe and you're tired of seeing the iDisk icon in your Finder window's sidebar, simply open Finder Preferences (Finder Menu>Preferences), click the Sidebar tab and UNcheck the iDisk icon. It will no longer appear in your Finder window sidebar. While you're there you can uncheck any other devices you don't want to see in your sidebar, such as external drives and CDs, DVDs and iPods, although I don't recommend it.
Now click the Advanced tab and UNcheck the box next to "Show warning before emptying the Trash." Now your Mac will no longer bug you when you empty your trash. If you tend to delete things you didn't mean to, be careful with this setting. Once you choose to Empty Trash, it's gone, with no more second chances!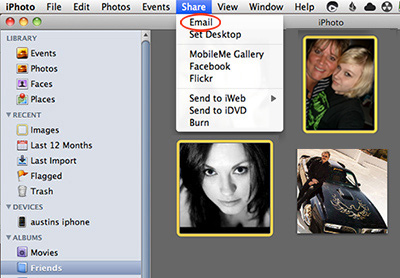 Attach iPhoto photos to email
If you use Mail, the Mac OS X email program
Select all the photos you wish to attach (Command+Click to select multiple photos), then click the Share Menu at the top of the screen. You will see several options for Sharing, but you want to choose the first one, Email. A window will pop up asking you to choose the size and quality of the photos. When you've done that, click the "Compose Message" button. Mail will create an email with your photos attached. Just address it and click Send.
If you use Gmail or Yahoo Mail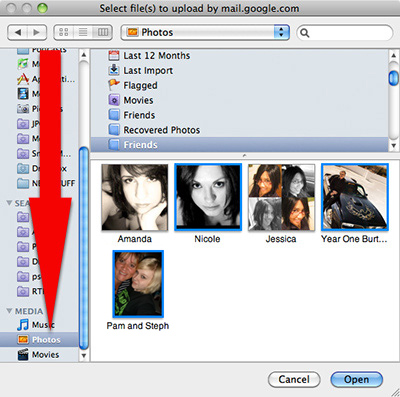 Open a new message in Gmail, click "Attach a file" in the Finder window that opens and look in the sidebar aaaaalllll the way down at the bottom under Media (you may have to click the reveal triangle to see the entries under Media). You will see Music, Photos and Movies. Click Photos and you will see all your iPhoto Events and Albums. Now just select all the photos you wish to attach (Command+Click to select multiple photos) and then click the Open button. Gmail will attach them all to your new email.