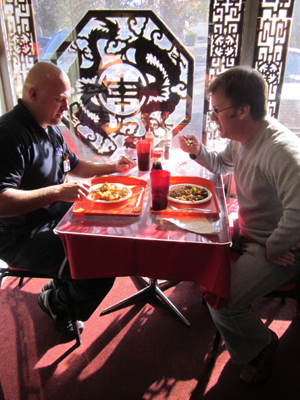 Our fair city is filled with traditions and places where we all go to find the comforts of life that we crave. Almost all those traditions and places have their roots right here in Murfreesboro. But what about a tradition that has its roots half way around the world?
The Far East Café is just such a place—a long-standing 'Boro tradition and arguably the oldest oriental restaurant in Murfreesboro. (I say "arguably" because BoBo Chinese Restaurant and Far East opened at about the same time.)
Far East Café owners Chan and Vanida Plaengnam started Far East as a market specializing in oriental groceries. The location at 1529 East Main Street had been a bicycle shop, just a couple blocks down from the main entrance to MTSU and convenient to the old hospital, which provided steady business. (Although Middle Tennessee Medical Center has recently moved, they still choose Far East for catering.)
In the back of the market, Chan and Vanida set up a few card tables where they served food made from Vanida's recipes. Some of these were family recipes from back home in Thailand and others were newer ones shared amongst family and friends.
After a while, more customers were coming for Vanida's cooking than the market, so Far East Café was born and it has been a staple of Murfreesboro ever since.
Far East has become such a regular part of the community that they are now serving third-generation customers. Many past residents that return to visit Murfreesboro always include a trip to Far East. Mariya Plaengnam, daughter of Chan and Vanida, related the story of one lady who drove all the way from Michigan just to fill her daughter's birthday request of a meal from Far East.
"The lady drove all the way down here and took the food home in Tupperware," Mariya said. She also told me of a pregnant lady who had such a craving for Far East's sweet tea, she left her husband at home because he was taking too long to get ready. "She downed the first glass while standing in line," she said. Never get between a pregnant woman and her cravings.
According to Vanida, the reason for such customer loyalty is the food. Far East makes everything on the menu from scratch and only uses fresh products, never frozen. All the sauces are made from scratch and all the dishes are made from hand-selected meat and vegetables.
A few years ago, customers started asking for General Tso's chicken. Having never tried this, Chan went out and sampled it and decided he could do it better. He made up his own recipe for it and served it to friends and family at Mariya's MTSU graduation party. It has become their best seller on the lunch buffet.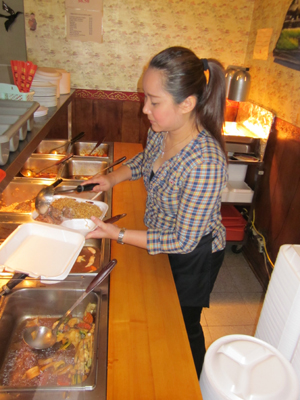 Far East's lunch buffet is unique. It's not a serve-yourself all-you-can-eat buffet. Instead, it is piled high on your plate by a member of the Far East family. Take it from someone who eats there regularly, it's enough that only the customer with the heartiest appetite will go home empty-handed. All menu items are available all day. During the day, you can choose the buffet or order off the menu.
Chan and Vanida met in California and moved to Murfreesboro so Chan could finish his master's degree at MTSU. Both agreed that this was the place to set down roots and start a family. Much like the customers they serve, the Plaengnam family has deep ties to this community. All the employees at Far East are family or family friends and it shows in the customer service, from the smiling faces serving the buffet to the deliveries that service most all of Murfreesboro. The restaurant also offers a discount to MTSU students who have a student ID and offers catering services.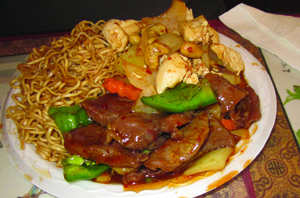 I like spicy foods and I personally suggest the Spicy Beef and those wonderful noodles that you can order with it. But that's just me. It's best to try them all and decide for yourself. If you venture into Far East on any given day around lunchtime, there's a good chance you'll see me there, or the masses of other 'Boroites who Chan seems to know on a first-name basis.
Being a soul who likes his comfort foods, I'll be sitting at one of the tables in the back so I can view the world as it marches its way through the quickly moving lunch line. I'll be enjoying my Spicy Beef, Cashew Chicken, noodles and that famous sweet tea. If you see me, smile and wave, I'll do the same.