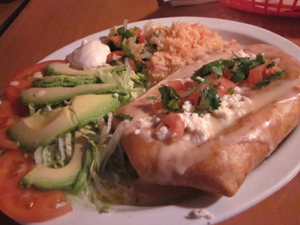 A sign of a healthy and growing community is an ever increasing number of places to eat. In a community with ethnic diversity you will find restaurants that reflect that diversity. Now, I'm not talking about your average ethnic restaurants. You will have those even without a multicultural environment. No, what I am talking about is the good stuff, not what comes frozen on the same truck that goes to every restaurant in town. Nope, what I'm talking about is home cooking.
There is a large and growing Hispanic population in Rutherford County and the restaurants are starting to reflect it. Now, I'm not knocking the big Mexican food restaurant chains, but if you have ever read my articles before, you know when it comes to food, I look for the path less traveled. I prefer the mom-and-pop place to the standardized fare of any restaurant row. I look for home cooking, the meals that stem from grandmothers and great-grandmothers, handed down from generation to generation, put on a big plate and stuffed into my smiling gullet.
Carmen's Taqueria, located at 206 W. Northfield (in the old Big Apple Bagel building), is just that sort of restaurant. The restaurant is owned by Carlos Ramirez and his wife Carmen, who the restaurant is obviously named after. By his own admission, Carlos has found a large Hispanic and an ever growing local market for his cooking.
Before deciding to open his own restaurant, Carlos worked for many years as a baker. He brought his love for baking to the restaurant business. Carmen's is the only Mexican restaurant that I know of that bakes fresh bread every day. Not only is the bread freshly made, everything on the menu is. Nothing here is the standard Mexican restaurant fare we have grown so accustomed to. Everything including the salsa, (you get three different ones as soon as you sit down), a large variety of tortillas and all the desserts are made fresh daily. Carlos is proud of his desserts and smiles when he talks about them. The dessert menu features Tres Leches Cake, which translates to Three Milk Cake. As of this writing, I haven't tried the Tres Leches, but it would be safe to assume that I will have by the time this goes to print! Along with the Three Milk Cake, you can get fried plantains covered in chocolate. This I have tried and it's wonderful. If you have never tried plantains, the best description would be bananas with attitude. Another dessert that's new to me is the Chocoflan or Chocolate Flan (I must try that one too!).
When you eat at Carmen's, you will notice just from reading the menu that this place is a little different. All the foods you find at the big chain restaurants are there but they are served a little differently. Carlos is from Puebla, Mexico, and he describes the food as southern Mexican cooking. The recipes are his mother's and his wife's and have a flare that is indicative of the southern regions of Mexico.
Carlos wants to appeal to local tastes as well as those from his homeland.
"Come by and taste the difference from other Mexican restaurants. You'll love the food and the prices are very competitive," Carlos said.
Not only are the prices very reasonable, there are daily specials that are discounted up to 50 percent. There is also a discount for MTSU students, live music every Friday and Saturday night and domestic and imported beer. Another aspect that sets Carmen's apart from the others is a breakfast menu. Carmen's opens at 11a.m., but the breakfast menu is available all day. This is something else I must experience because I always figured breakfast was about the same everywhere. I am looking forward to being educated about breakfast south of the border. It is my guess that their breakfast burrito will be vastly superior to the one I usually wolf down on the way to work.
So next time you want something other than the standard Mexican restaurant chain food, give the southern Mexican home cooking at Carmen's Taqueria a try. If you see me, let's compare notes on the Tres Leches Cake or breakfast.