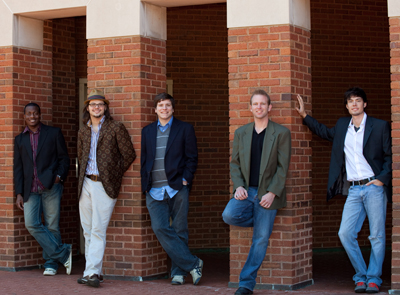 The Murfreesboro jamsters of The Great Barrier Reefs are set to release the group's first CD, and members have otherwise been spreading the sounds of island-flavored smooth jazz across Murfreesboro with increasing frequency.
Though sometimes operating under the Tony Hartman Quintet or Bellwether, at least some of these same dudes are involved, and one can expect a session of skilled musicianship, funky beats, and low-key, but sophisticated jazzy sounds.
As has been noted in The Pulse, many of the great bands in the area are those who defy genre, mashing the multitude of influences from years of consuming and playing music into a creative combo that's fresh, new, untraditional.
Hartman defines Great Barrier Reefs as "steel-drum fronted, funk-drum-reggae-world group" when pressed to choose a genre.
The players—Hartman on steel pan, Taylor Lonardo on bass, Matt Galloway on guitar, Josh Dunlap on sax and Matt Heller on drums—were all students in the MTSU music program.
The record, Finding Time, "kind of reflects the whole process of recording. We started recording over two years ago," Hartman says of the upcoming all original, all instrumental CD.
The release event held at Gilligan's on Wednesday, April 13, gives music fans the opportunity to see a great live show and leave with a copy of the CD in hand, for $10. The bill also features Deep Fried Five, The Coolin' System and Grooventure.
Hartman's road from Iowa to Middle Tennessee didn't pass through the Caribbean, but somewhere along the way he developed a great love and skill for the steel pan and other Latin percussion.
"I grew up playing bass," he said. "My grandmother is a piano teacher and organist, so I started early there.
"I came (to Murfreesboro) to tour the RIM program, but I decided I'd rather be on the other side of the glass, rather than on the faders."
Though focusing more on performance than the studio, Hartman still finds himself in a recording setting, often with band- and roommate Lonardo.
"I learned a lot living with Taylor and participating in the home recording studio environment there," Hartman says.
While the Corbitt Brothers were recording there, for example, Lonardo would "come down and say, 'hey we need some percussion over this guitar part,'" Hartman says. He enjoys being surrounded by the musicians of Murfreesboro, what he calls a "sub-Mecca of Music City."
Many of these local players come out to Liquid Smoke on the Square each Tuesday to provide the musical entertainment there. Mr. Dunlap leads Bellwether; "he has his songbook, but a lot of the same circle of musicians play there," Hartman says.
The Sunday evening affair at 3 Brothers is also more jazz-oriented than the Reefs and features familiar tunes of all sorts from film music to Jimmy Buffet to Michael Jackson.
"When swing was happening, that's how jazz came together. Taking popular songs, and improvising," Hartman says. "It's a time to play all of the Coltrane, some of the fun stuff," he continued, on the Sunday evenings.
It's not all jazz standards and instrumentals, though. The Reefs know how to bust out a little humor as well, performing Young MC's "Bust a Move" at a recent show, with MC Tony spittin' the vocals. So now he can list mad rapping skills within his musical arsenal, along with steel pan, piano, bass and percussion of various types.
"We're about to retire that one," he says, but assures the band will have plenty of other fun surprise songs in the future.
Whatever the material, even as technical as some of it is, Hartman always appears to be having fun, grooving with a smile on his face and communicating positively with the audience at all times while on stage.
Hartman hopes to see GBR travel more in the future, but for now, between the Reefs, Sunday and Tuesday nights, teaching private lessons, scoring an old silent film at 3 Brothers Deli's Silent Movie Night, sitting in with Futureman, Sky Hi and Rhythm Kitchen within the course of a single week, and working with the Oakland High School Band through marching season, he stays a busy working musician right here in Middle Tennessee.
If You Go:
Great Barrier Reefs CD release
Wednesday, April 13
Gilligan's
The Tony Hartman Quintet
Every Sunday night
3 Brothers Deli & Brewhouse
Bellwether
Every Tuesday night
Liquid Smoke
Silent Movie Night with Great Barrier Reefs
3 Brothers Deli & Brewhouse
Sunday, April 24
Great Barrier Reefs, Opposite Box
Bluesboro
Wednesday, May 18