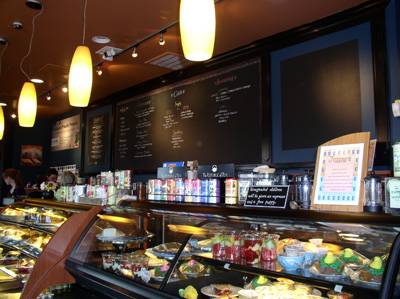 With spring comes change, and JoZoara Coffee Shop recently celebrated the first day of spring by closing early and making a few changes. As word of change began to spread, many voiced concern about what has become a popular local meeting place.
Change and The JoZoara Experience
"Change is good," says co-owner Teresa Harmon in a letter to JoZoara employees. "In our case and every case, change is necessary." She quickly adds, however, that there are some things that will never change at JoZoara.
The unchangeable includes "legendary customer service and consistency in drinks and food, service and presentation." These are the very things, according to Harmon, that caused local JoZoara regular, Laws Bouldin, to coin the phrase, "The JoZoara Experience." He had visited another establishment that serves Stone Cup Roasters; their baristas also trained with SCR, just as the baristas at JoZoara. Because of these commonalities, he expected something similar to JoZoara, but found there is more to the coffee shop than quality coffee and superior training.
And he isn't alone.
Everyone is Family
Folks are talking about the coffee shop with the funny name (Jo for coffee and Zoara for sanctuary), which celebrated its 3rd birthday on April 1st. No foolin'. Lakeithea at CoffeeSunshineFashion.blogspot.com said, "When I was walking into the shop, I didn't know what to expect because I could barely see through the windows, but once I stepped foot into the front door I felt at home."
The same sentiment was echoed on UrbanSpoon.com. Brett H. Perkins said, "All it takes is one visit and you are family. The minute you meet Teresa, you will be hooked." The fact that chai is served, Chicks with Sticks (open knitters' night on Mondays) meet there, the wide selection of healthy sandwich choices, game nights (Fridays) and live music (Thursdays) were also mentioned as favorites.
CoffeeMom, who moved to town in July 2010 wrote in a review on local.yahoo.com, "The owner [Teresa] took the time to sit and ask me how I liked the town, where my kids will attend school and took a genuine interest in what I had to say. I felt right at home in this beautifully decorated, trendy, spacious shop."
Signs that read Welcome Friends and Friends are family you meet along the way decorate the walls alongside a mirror that reads Nobody belongs here more than you. Solid wooden chairs at large, stable tables, factoid table cards and knowledgeable staff that bring your order to the table are other reasons customers give for enjoying this delectable shop tucked unassumingly into The Oaks Shopping Center at the corner of Thompson Lane and Medical Center Parkway.
Gloria Valdez, member of the Earth Divas—a group of four friends who have been meeting at JoZoara for two years to play mahjong—said, "When we sit at  'our' table, it feels like 'our' table. Despite the size of the place, it feels intimate, yet we're still connected to everyone else milling about, tapping their keyboards, sipping drinks and munching sandwiches.
"It's a hub of activity and community. You run into people you know who can lean into your table and chat, pull up a chair and stay awhile. It's conducive to creativity and fellowship." Valdez pauses, then remembers, "Ooh, and laughing fully out loud is not frowned upon!"
Why they Come
This "hub" has at its center the whirling dervish known as Teresa. Dressed in an apron over a skirt, a shirt with "Grounds Crew" on the back, her long, gray mane pulled back unwillingly, she greets incoming "guests" (as she calls her customers), runs the cash register, wipes off a tabletop, takes a full dish tub to the kitchen and reappears to greet Rebecca Upton, event co-chair of the recent Backyard Bash. Co-sponsored by JoZoara, Teresa declines being photographed with the Nissan Cube that was to be raffled at the upcoming (now past) Center of the Arts block party. She insisted that two of her young baristas should be in the photo. Also co-sponsored by The Pulse, the Backstage Bash was a fundraiser for the community arts center.
JoZoara itself is an arts center of sorts. A daytime visit to the shop is like a weekend getaway, complete with local art and craft creations for sale. Artists receive 100% of the proceeds from sales, an arrangement that's supportive of the artists and nearly unheard of, especially in today's retail environment.
Instant ease settles upon those who slouch on the leather couch and chairs by the front door. The center of the floor is a beehive of gatherings around tables covered with paperwork and computers and colorful dishware boasting yummy selections. Over there, a couple of educators discuss serious issues, while a couple next to them catch up over latte and ginger peach tea. There's a woman in a veil at the conference table in the back near the mural map that shows foreign lands where beloved soldiers are serving our country. Others flying solo are reading or working on their laptops or people-watching. Two women and two children meet up with two men and all are smiling and laughing.
Byron Sommerdahl, software engineer and software development company owner, likes JoZoara so much he has given up his office space on the square and works full time at the busy eatery. When asked why, he said, "It's got internet and power, which is what I need to do my job, but you can have that about anywhere. The rest of it is because of the people that work there. I know every one of them by name. They're all the kind of people I would want to hang out with.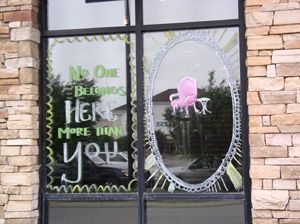 "The environment is extremely comfortable and welcoming. Teresa has got hospitality in her blood. She just oozes hospitality. When I feel welcome in a place like that, it's easy to want to work there." Admitting that Teresa would have to corroborate this claim, Sommerdahl says he spends more time at JoZoara than anybody in Murfreesboro and has had more meals there than at his own house.
About the Food and Drinks
Sommerdahl knows the JoZoara menu and ingredients; he also sings the praises of the amazing creator of food known simply as Tabita. Byron and others watch the JoZoara Facebook page for news of a newly created soup by Tabita Fracker. But he shares a secret that not all may know about the young cook.
"She makes the best breakfast sandwich in the country," he insists, "but it's not on the menu. You have to ask for it by its ingredients." These include a croissant, two eggs, cheese, sundried tomatoes and red peppers.
On CouponMint.com, T Preston says, "The AP Chem II teacher at BHS organizes her study groups at JoZoara for the great atmosphere and availability of coffee and food." Gloria Valdez declares the iced latte the best in town.
"They use a special cold-brewing process for the espresso/coffee used in their iced drinks," she explains. "Keeps the flavor and it stands up to ice. No bitterness. Deep, lovely flavor. Mmm . . ."
Another Earth Diva, Valerie Brandon, says Teresa "is the only purveyor of mate' in Murfreesboro, to my knowledge, and she does offer a 'mean cuppa joe' when I want the hardcore caffeine."
Harmon says, "We are trying to identify our niche. When our customers want to indulge in a well-deserved treat, we'll always have chocolate cake for them. However, having healthy food available seems to be a typical customer's preference."
Chocolate cake is not the only treat choice. Gleaming glass cases showcase well lit muffins, scones, brownies, pies and cheesecake. For those who prefer health food over mental health food, selections include fruit cups, veggie cups, V8, almond milk, soy milk, sprouts and bottled water, not to mention the healthy sandwich and drink choices.
"The new house latte is espresso, steamed milk, honey and cinnamon, all ingredients our body knows what to do with," explains Teresa. Fresh, healthy ingredients are a staple at JoZoara—something else that will not change.
Many customers are grateful for the seemingly small things. For example, Mandy Ray-Jones is "glad that they have stevia." Knowing this, employees take care when assembling orders making a JoZoara sandwich a thing of beauty. A glance around shows sandwiches made with croissants or hefty wheat bread, sprouts curling out from between the thick brown crust on plates the color of eggplant. Between the sandwich and the plate, a doily sets off the food offering.
A foodie blogger on HobnobMurfreesboro.com describes the "classic Chicken Panini," saying it is "loaded with peppers, spinach, chipotle ranch, provolone cheese and grilled chicken on a delightful toasted wheat bun. All I can say is 'Yum, Yum, Yum!'"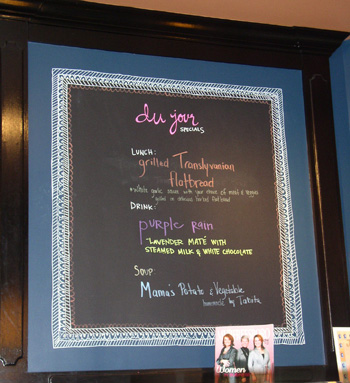 Visual Delights
Daily specials are announced on one of several menu boards that are a visual treat. Barista and artist Sarah Cameron has reworked the menu boards, embellishing them with drawings of familiar buildings in the area including the MTSU Keck Building and a sampling of shops on the square. Cameron, a third-generation artist, came by her talent honestly. "My grandfather was a sign painter and my mother is a muralist," adding that she feels like she's continuing a family tradition, and she says it in a way that makes you know she considers that an honor. Sarah's mother is also a special education teacher at Stewart's Creek.
The quiet yet expressive young woman will be painting two murals—one on the wall where the artist's shelves were (they're still there, just compressed into a smaller space) and one of the community's beloved Red Rose over the syrup shelf behind the counter.
"What's happened to that building is a shame," Harmon said, explaining that she had attempted to rent or lease the building three years ago when it was still a viable location. It has since been allowed to fall into such disrepair that it may not be salvageable. [See related follow-up article in this issue.]
Their Place in the World
It's obvious that Teresa is passionate about saving and recycling and living in such a way that is in harmony with the world around her. Because of this, she's aware of waste, even referring to an unused, plastic to-go knife as being on its way to "trash mountain," the nickname of the mound of garbage at the Walter Hill garbage dump.
An organic gardening class offered in March resulted in heirloom starter plants that are being sold as they're ready at $1 apiece with the proceeds going to your choice of Greenhouse Ministries, Second Harvest Food Bank or F.u.e.l.—"for school kids that need breakfast and weekend meals," according to Harmon.
When "Boss" is Not a Four-letter Word
Always smiling, Harmon treats employees, and everyone else for that matter, like family. Sarah pauses from painting to say that Teresa "is JoZoara embodied. She's the most genuine person I've ever met. She has a really rare gift."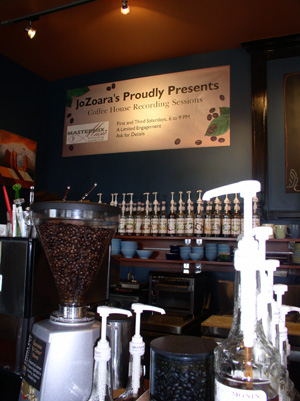 The mutual respect between employer and employee is obvious. "We're invested," says Cameron. "We want to do our best to make things easier for Teresa."
Their admiration is mutual. Teresa praises the team in her letter to the staff, saying, "You are my JoZoara experience. No instructions can be given to make you who you already are." She sees her job as providing "the tools to implement improving our consistencies" so that customers are served and the "JoZoara family member" will have "as wonderful work experience as possible."
Andrew Mowman started with JoZoara in its beginning (what Teresa calls the "start from nothing point") and worked there off and on over the following three years.  He instilled the passion for coffee and created so many of the sandwiches, the procedures and the employee handbook.
"JoZoara is a product of Andrew's 'investment' in the shop," says Harmon, "for which we will always be grateful! This June 24th, he'll marry Misty Davenport whom he hired at the shop in 2008. No doubt, this will be the best thing that could ever come out of JoZoara!"
This supportive, appreciative attitude by management doesn't mean employees are not expected to work. Teresa reminds each shift of their responsibilities, telling closers not to "close around guests in a way they feel uncomfortable" and to "see your end result through the eyes of the morning crew."
"Make no mistake," she admits to the group, "you have to work hard . . . and fast, when necessary. We expect you to be taking care of the customer in front of you above all else." Using one employee as an example, Teresa encouarges other staff members to "be like Tim—work hard and happy." She reminds them that "customers, big spenders or small, help us pay you," then goes into mother mode, saying, "From the life lesson side, these people are put in front of us. They can be our teachers, our examples of how to be and how not to be."
The middle-aged, ever-active co-owner appreciates the fact that her guests are "very diverse," and she prompts employees to "appreciate that."
Despite Teresa's reluctance to be in the spotlight, others see her as the sparkle in the place. One of Valerie Brandon's "favorite aspects of JoZoara is the welcoming atmosphere Teresa cultivates. We sometimes sit and chat for hours, and she seems genuinely pleased to have us hanging out there. I can't think of many business owners who meet and greet folks with the kind hospitality she always offers."
A Note about Music
A visit to JoZoara in the evenings can include an order of music on the side. Murfreesboro creative Mandy Ray-Jones enjoys "meeting girlfriends at JoZoara, especially on Thursday nights to hear Rik Gracia sing." Dan Coleman of Mastermix Music has also made Saturday nights special through a series of coffeehouse recording sessions. [Read more about these free live recording sessions in the related article in this issue.]
After informally polling Murfreesboro via online reviews and face-to-face customer interviews, it seems that JoZoara is a virtual home to many. As Byron Sommerdahl put it, "Even if the food and the drinks and the environment weren't perfect—and they are—I would still go there because of the people."
The Dish
Monday–Thursday 6 a.m.–9 p.m.; Friday 6 a.m.–10 p.m.; Saturday 7 a.m.–10 p.m.; Sunday 8 a.m.–8 p.m.
536 N. Thompson Lane
615-962-7175