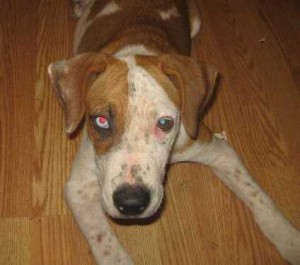 "Looking for a single lady to protect, because I do like my ladies!"
Tank is about 2 years old, is great with female dogs (he is dominant with males) & cats, and loves attention. Tank is very active, and needs a backyard to run in, with a playmate. He plays very rough, and will love you beyond belief. No outdoor cats. He thinks they are fair game!
Tank needs to be with a single female or female couple. He loves females, but hates males.
Primary Breed: American Staffordshire Terrier
Secondary Breed: Labrador Retriever
Sex: Male
Altered: Yes
Up-to-date: Yes
General Color: Brown/Chocolate with White
Pattern: Bicolor
General Size Potential: Large
General Age: Young
Ear Type: Uncropped
Personality and Behavior
Activity Level: Highly Active
Indoor/Outdoor: Indoor Only
Requires a yard: Yes
Requires Home with Fence: Any Type
Energy Level: High
Obedience Training: Needs Training
Personality & Behavior Qualities: Playful, Affectionate
Compatibility Information
Good with Adults: Women Only
Good with Dogs: Yes, female only
Owner Experience Needed: Breed
For more information about adopting Tank, or other pets in need, e-mail Laura at furabetterlife@gmail.com.