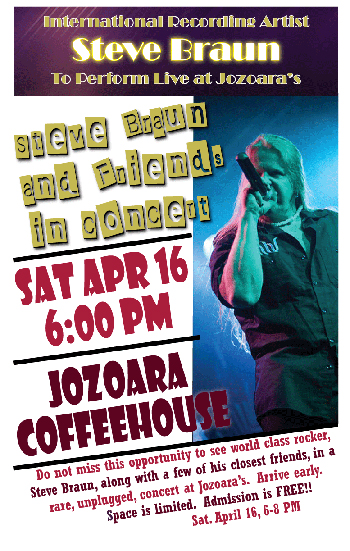 Why is heavy metal rocker/front man Steve Braun appearing at JoZoara Coffee Shop in Murfreesboro on April 16?
"I just like to sing," said the accomplished singer with the rock-blonde mane. Steve and three of his musician friends—Mark Crombie and David Lowry on guitars, and Barry Becker on percussion—will be performing acoustic music at the popular hotspot in Middle Tennessee.
Braun may be best known for his current work as lead singer/front man for Nightmare Records premier heavy metal band, Halcyon Way, who has toured internationally and is working on releasing songs on Xbox 360 Rockband. But this classically trained vocalist has yet to meet a genre he doesn't like.
"I started around the age of 5, singing in the Christmas program at church," he explained. Years later, after deciding on music as a career path, Braun studied voice at Trenton Conservatory of Music in New Jersey and the Westminster Choir College.
During his sophomore year, he joined the Image 7/Word Records band, Siloam. The anti-drug rock band had corporate sponsorships with McDonald's, Coca-Cola, Pepsi, and Partnership for Drug-free America, and the band toured the US and Canada often playing for thousands of people a night.
In 1998, Braun used his voice to propose to his wife on The View. "I had planned on proposing at a Yankee's game, but The View called Yankee Stadium looking for someone to propose on their show and they got my name." The whole thing turned out even better than expected.
"We completely surprised my then-girlfriend Tara, and I'm the only person to ever make Barbara Walters cry on TV," Braun said, then complimented his wife of more than a decade.
"If we didn't have God at the center of our marriage and we both weren't willing to give 110 percent it wouldn't work," he admitted. "I couldn't do this with a lot of women."
"But my music is a calling. It's a passion. If it wasn't causing a burning in my heart, I'd give it up. You work real hard for months for the 15 minutes of 'glamour.'"
From 2005 to 2010, Braun played with the Italian progressive metal band, Ashent. During that time, they had two worldwide releases and rave reviews. Despite a successful touring schedule, the Nashville resident left the band "to pursue an avenue that didn't require 15 hours on an airplane to meet up with my bandmates."
"This will be a bit different from our usual Coffeehouse Sessions," explained Dan Coleman, Executive Producer of MasterMix Music, "in that we usually feature three artists during each show. However, Steve's talent will shine through. His performance will fill the time and the coffeehouse. Because of this, April 16th will be an exclusive Steve Braun and Friends showcase—unplugged, of course," Coleman smiled.
JoZoara co-owner Teresa Harmon realizes that it is an enormous privilege to host an artist of Braun's caliber. She also appreciates the fact that he's a dedicated husband and a pup-dad to three doggies.
The all-acoustic recording sessions have been a real draw since they began at JoZoara in December of last year. According to Braun, audience members of all ages will enjoy the show.
"Believe it or not," he explained, "even with my rock [background] we have a wide range of people who are fans. It surprises people that we have fans of all ages." His mother especially enjoys hearing him sing, but she can no longer make it to many of his concerts held in larger, downtown venues. She'll definitely be in the crowd on April 16, though.
Braun doesn't hide the fact that he's a Christian, even if all of his songs don't have a Christian-specific message. "I like to write songs that are straight-forward," he said. "There's always a thread of truth that reaches people where they're at."
When he's not singing R&B/Southern gospel music in church, singing heavy metal with Halcyon Way or singing cover songs on Nashville's famed Lower Broad with his band, Burning Ground, Braun is a massage therapist at Blue River Canyon Day Spa in Brentwood.
His "day job," as well as his other gigs, and Tara's work as a flight attendant have carried them through recent months while the Halcyon Way guitar player battles lymphoma. "A veteran musician knows the importance of keeping multiple irons in the fire," says Braun.
On April 16, Steve Braun and Friends will give JoZoara audience members a show they will not soon forget. Those who want to be in the audience that night should plan to arrive early enough to get a seat for the FREE 6 p.m. intimate concert with the world class rocker.