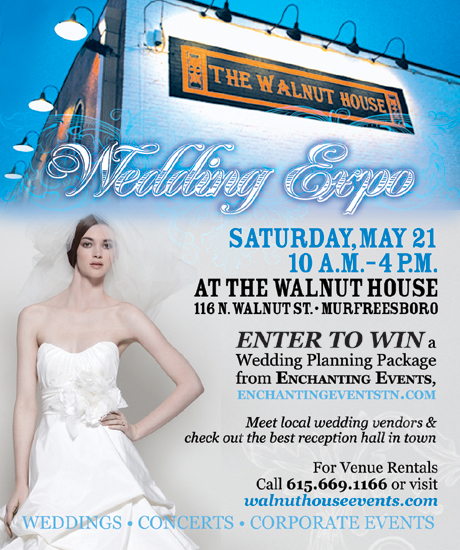 Many know of The Walnut House as the premiere recording facility in town and for hosting some of the top local independent bands in concert on the weekends, but the venue is also establishing itself as a great place to host a wedding reception.
In an effort to reach out to both those in the wedding industry as well as couples planning a wedding, The Walnut House will open its doors to the public and introduce some other local vendors at a free Wedding Expo on May 21 from 10 a.m. to 4 p.m.
Walnut House Event Coordinator Maggie Warren envisions the day as an "open house for future brides to see what is available right here in Murfreesboro, so people don't feel like they have to go into Nashville for their venues, and to build lasting relationships here in the community."
The expo is a partnership with Enchanting Events Wedding Planner Samantha Carter, and other service providers slated to participate include Captured Moments Photography, Frost Videography, Savory Events Catering, Frozen Exposure Photography and even pre-marital counseling by The Waystation Counseling.
Couples can find everything they would need and everyone they would need to talk to for a wedding, says Warren.
Many in Murfreesboro are still not aware that the beautiful 2,400-square-foot Walnut House main room, with rosewood floors and elegant lighting, can accommodate up to 200 guests.
"And since it also a recording studio, the acoustics are amazing," she continues.
The building also contains a loft and foyer for additional space and a separate party room where smaller events can be held. Light, sound and DJ options are available as well.
The Walnut House is located at 116 North Walnut Street, Murfreesboro.
For more information on the Weddings Expo or for rental information, call Warren at (615) 669-1166 or visit walnuthouseevents.com.