For the third straight year, the Murfreesboro Noon Exchange Club will host the Flags of Remembrance Healing Field Flag Display. This moving tribute honors the U.S. military past and present and especially those who died in defense of our nation, as local volunteers post fifteen hundred U.S. flags on the Avenue Mall, which is located at Medical Center Parkway & Maplegrove Drive. The display will take place from May 28-30 and is free for the public to view.
What is a Flags of Remembrance Healing Field display and what does it mean? Ask Rebecca Talley and her dedicated committee from the Exchange Club. Last year they brought flags and volunteers together to create an emotional display that attracted 25,000 visitors.
For visitors the meaning is individual and personal. For the family of Lance Corporal J.D. Hirlston the waving sea of red, white and blue honored the sacrifice of this 21-year-old Marine who died far from home in Iraq. For another visitor, Donald Todd, the display brought to memory all those who died in defense of our nation. Still other visitors wore T-shirts bearing the message, "My son defends freedom in the Army." Drawn from many, the meaning emerges that all those who serve and all those who sacrifice take their place among the honored defenders of American freedom. Further, it is a reminder that they and we are part of something greater than self. Perhaps a sticker on Mary Hirlston's SUV sums it up: "Freedom isn't Free."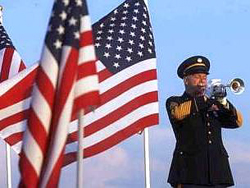 Sponsored flags can be dedicated to honor individuals. Flags posted on the Healing Field flag display may be sponsored for $30 each. The proceeds from the event will benefit the Exchange Club Family Center for the Prevention of Child Abuse, A Soldier's Child and other Exchange Club Projects. At the close of the display, sponsored flags may be retained to be proudly displayed at homes and businesses throughout our community.
The team at the Colonial Flag Foundation is proud to join with the Murfreesboro Noon Exchange Club in presenting this Healing Field Flag Memorial.
To volunteer, contact Rebecca Talley at (615) 278-7178. For more information, visit healingfield.org/murfreesboro-tn-2011.