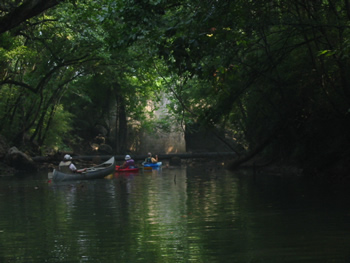 For those who like a splash with their outdoor recreation, the Stones River Watershed Association (SRWA) works publicly and behind the scenes to ensure good, clean fun.
The Black Fox Wetlands League, formed in 1990 to protect one small water resource, was transformed and renamed the Stones River Watershed Association (SRWA) in 2003 by folks who shared an interest in water quality, wetlands, environmental education and water-based recreation. The SRWA has built partnerships with public agencies and non-profit organizations committed to water resource protection, fostered public interest in recreational river usage, collaborated with schools and teachers to deliver quality environmental education, developed expertise in river corridor assessment and restoration and networked with sister organizations in other watersheds.
"We recently had our annual Stones River Relay," says SRWA President Randle Branch. "It started with a 4-mile run from the top of the watershed atop Short Mountain to Short Mountain Elementary School. That was followed by a 9½-mile bike ride to the Cannon Co. Arts Center and an 8½-mile paddle on the Stones River to Readyville Mill."
The event held on the first Saturday of April will only be the beginning of travelling the entire Stones River Watershed in 2012. Continuing on the first Saturdays of the following months, paddlers will navigate from Readyville Mill to Brown's Mill in May, from Brown's Mill to Walter Hill in June, from Walter Hill to Mona in July, from Mona to Jefferson Springs in August, from Jefferson Springs to Longhunter State Park in September, from Longhunter State Park to Hermitage in October and from the Percy Priest Dam to the Cumberland River in November. Participants will have travelled the entire watershed by the end of the season in November.
For those who want some water action this year, you can join the group on May 7 for a paddling trip from Readyville Mill to Brown's Mill. For info about this event, contact swra@stoneswatershed.org.
If this sounds like fun, but you're a novice, Boat Day with SRWA on June 25 may be just the ticket. Experienced SRWA volunteers will provide the boats (canoes and kayaks), personal flotation devices, paddles and instruction on unique characteristics of each craft, boating basics, correct paddling strokes and boat safety. Open to all ages, the free event runs from 9 a.m.–noon at the Manson Pike Trailhead, 1208 Searcy Street, off Medical Center Parkway. For more information, contact Rachel Singer at (615) 217-3017 or 4singer@murfreesborotn.gov.
Part of SRWA's purpose, described extensively on the website at www.stoneswatershed.org, is "to provide educational opportunities, including water-based outdoor activities for students, youth groups and the general public." Its greatest initiative is the international GLOBE (Global Learning and Observations to Benefit the Environment) program. SRWA has partnered with the City of Murfreesboro and Rutherford County, using a grant provided through the storm water utility fee, part of which is mandated to be used for education.
Randle Branch explains that GLOBE "provides education to teachers for classrooms about monitoring nearby streams by sifting water and looking under rocks to identify macroorganisms. We have provided $1,000 worth of testing equipment and nets to two schools at this point—Riverdale High School and McFadden Elementary School. Along with getting students outdoors, giving them practical experience with rivers in their backyards and learning how to keep water healthy, they place their findings online. All of this is done using protocol that's accepted worldwide, which allows us to track the health of streams over time." Cedar Grove Elementary School, Children's Discovery Center and City of Murfreesboro Parks & Recreation are also participants in GLOBE. Much of this work has been funded by a $5,000 grant from the World Wildlife Fund. SRWA hopes to add one school to the GLOBE program yearly. For more information about GLOBE, contact Cynthia Allen at srwa@stoneswatershed.org.
Regular membership in SRWA is $20; student membership is $10. That's a small price to pay to ensure the health of our watershed now and into the future.