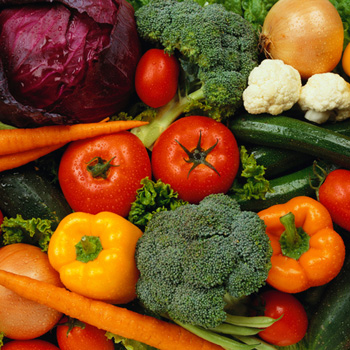 It is no secret that eating a diet rich in fruits and vegetables provides health benefits. In fact, increasing your intake of fruits and vegetables may be the most important step you can take toward reducing your risk from chronic diseases, such as cancer, heart disease, diabetes, obesity and others. Eating a colorful variety of fruits and vegetables is the most beneficial to your health. They add color and texture to your plate, so look for those that are rich in color—reds, oranges, purples and deep greens. Not only are they healthy for you but they are convenient, low in calories and fun to eat. The current recommendation is to fill half your plate with fruits and vegetables. Here are some quick and easy tips from the American Dietetic Association on how to incorporate more fruits and vegetables to your diet:
1. Wake up to fruit. Make a habit of adding fruit to your morning oatmeal, ready-to-eat cereal, yogurt or toaster waffle.
2. Mix up a breakfast smoothie made with low-fat milk, frozen strawberries and a banana.
3. Stock up: Fill your fridge with raw vegetables and fruits —"nature's fast food"—cleaned, fresh and ready to eat.
4. Variety abounds when using vegetables as pizza topping. Try broccoli, spinach, green peppers, tomatoes, mushrooms and zucchini.
5. Get saucy with fruit: Puree berries, apples, peaches or pears for a thick, sweet sauce on grilled or broiled seafood or poultry, or on pancakes, French toast or waffles.
6. Heat leftover whole-grain rice with chopped apple, nuts and cinnamon.
7. Make a veggie wrap with roasted vegetables and low-fat cheese rolled in a whole-wheat tortilla.
8. Try crunchy vegetables instead of chips with your favorite dip or low-fat salad dressing.
9. Grill colorful vegetable kabobs packed with tomatoes, green and red peppers, mushrooms and onions.
10. Banana split: Top a sliced banana with a scoop of low-fat frozen yogurt. Sprinkle with a tablespoon of chopped nuts.
11. Add color to salads with baby carrots, grape tomatoes, spinach leaves or mandarin oranges.
Now that you've learned about all of the exciting health benefits of fruits and vegetables, there's no better place than the Rutherford County Farmers' Market to purchase all of your fresh produce.
The market is open from 6-11 a.m. on Tuesday and Friday of each week (including holidays) through the last Friday in October, and 2-5 p.m. on Sunday in November and December. It is operated from the Lane Agri-Park Community Center located at 315 John R. Rice Blvd. in Murfreesboro. Vendors sell locally grown produce, plants and certain processed foods. For more information, contact Janie Becker with the Rutherford County Extension Office (615-898-7710) for operating guidelines or other Farmers Market information.