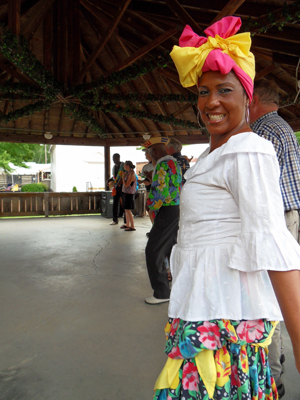 June has arrived along with a hoard of cicadas, Bonnaroo Music and Arts Festival and a more regional warm weather event—the International Folkfest.
The Murfreesboro-based cultural dance and music festival is set for June 12–19 this year, which means eight days of dancing in the street. Really more like dancing within the boundaries of parks, churches and centers for the arts, but you get the idea.
The International Folkloric Society (IFS), a nonprofit dedicated to preserving culture, particularly within the arts, will again be coordinating the festivities.
It's difficult to say exactly which anniversary Folkfest is celebrating this year.
Beginning in 1982, the festival stemmed from the Cripple Creek Cloggers, a Rutherford County-based group of Appalachian-style folk dancers which formed in 1967 and takes credit as the only authentic dance group of its kind. Their travels brought them out of US bounds to clog in other countries.
The cloggers must have had some excellent adventures abroad because they returned wanting to give the 'Boro a taste from the cultural soup pot. Hence the Folkfest, which welcomes dancers and musicians from three or four foreign countries to share and celebrate the arts.
In 1997, however, a lack of volunteers put the festival on hiatus until 2004, when the community realized that Folkfest was just too good not to have around.
Who will Murfreesboro play host to this time around? The Czech Republic will bring the Kelt Grass Band. Caribbean music and dance will lighten the atmosphere, as will Puerto Rican and Romanian.  And of course, the festival pioneers will be out in full swing.
"Our own Cripple Creek Cloggers will provide lively Appalachian-style square dancing with a clogging step, with colorful costumes from the early 1800s and accompanied by lively traditional music performed by the Turkey Creek Band from Coffee County, the Hands of Time from the Rutherford County area and Turkey Creek String Band from Tullahoma," says Folkfest director and Clogger Steve Cates.
The Cloggers are all about establishing relationships person-to-person, which is how representative countries are typically selected.
"Today, groups interested in coming to the US locate our festival's website and get in touch," says Cates. "We are often recommended by groups who have been here before festivals who have had our group there and know of our festival. For instance, the 17 days we spent in festivals in the Czech Republic last August, where more than 40 groups were present from all over the world, gave us many good contacts for this year as well as future years."
The Cloggers travel to Morcenx and La Réole, France, in July where they will undoubtedly meet more prospective Folkfest performers.
Just as the Folkfest hosts a variety of countries (more than 50 since the festival began), locations change as well, though this year the music and dancing can be found in some of the old familiar places.
Public performance sites include Central Christian Church, Patterson Community Center, Manchester Arts Center, Nashville's Centennial Park and Murfreesboro's downtown square, all of which have hosted Folkfest performers in previous years.
Murfreesboro has a myriad of good hosts.
During their stay, performing groups bunk in MTSU dormitories through a grant from the Tennessee Arts Commission. Such sponsors as the First United Methodist Church and St. Rose of Lima Catholic Church provide breakfast for them, and guides will acquaint the guests with the area through shopping excursions and visits to Tennessee Walking Horse farms and museums.
For festival goers who prefer to participate rather than spectate, there will be some audience participation involved at the venues. Performers will also teach master classes for the dance division of the Governor's School for the Arts at MTSU, which students may attend.
This event was designed for individuals with an interest in culture and art, but the coordinators keep the area residents in particular in mind.
"We are always hopeful that as many area citizens as possible can see and enjoy these presentations," Cates says.
Locals, come get exposed to the sights and sounds.
2011 International Folk Fest public performances include
Monday, June 13
7 P.M. Centennial Park Band Shell, Nashville
Wednesday, June 15
7 p.m. Central Christian Church, 404 East Main St., Murfreesboro
Thursday, June 16
7 p.m. Manchester Art Center, 128 East Main St., Manchester, TN 37355
(For reservations, call 931-728-3434)
Friday, June 17
7 p.m. Patterson Park Community Center, 521 Mercury Blvd, Murfreesboro
Saturday, June 18
8:30 a.m.-1 p.m. East side of the courthouse square, Murfreesboro