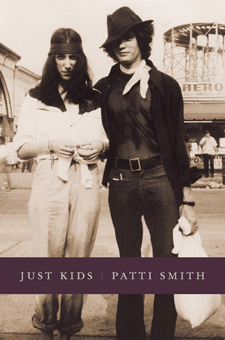 By Sarah Porterfield, Read To Succeed Family Literacy Program Coordinator
rtsprograms@readtosucceed.org
In 1995, at nine years old, my dad turned up the radio in our car on the way home from school. Listen, he told me. You'll like it.
It started there, fifteen years ago, this obsession with a woman's voice that was possibly the farthest thing from any I had ever heard before.
Patti Smith's album Horses was on constant replay in my room back then. And I didn't even know anything about music, or rock and roll, or that crazy time of flower children and the Chelsea Hotel and Janis Joplin and Jimi Hendrix and Andy Warhol and the Factory. Her voice was just compelling. You couldn't help but listen.
Her writing is no different. Smith's memoir, Just Kids—released over a year ago and recipient of the 2010 National Book Award for nonfiction—puts you right there, right into the heart of where her legendary music came from. Her prose is as readable, beautiful and relatable as her poetry. And the story is just as gripping as her voice.
Beginning in 1967, Smith details how her 21-year-old self set off for New York, leaving behind a troubled past and family. Smith arrives in New York with no money, no friends, no home, no job and no food. During her tumultuous first few months there (often living as a vagabond, sleeping in the park), Smith meets a young guy named Robert Mapplethorpe, who would become a legendary photographer most noted for his vivid, homoerotic images. Her life changes forever.
The duo lived in the Chelsea Hotel before hitting it big, joining the ranks of celebrated artists like Bob Dylan, Virgil Thomson, Charles Bukowski, Janis Joplin, Leonard Cohen and Iggy Pop who once called it home. Detailing this period of her life, Smith's storytelling especially shines: meeting Janis Joplin at the bar next door, a brief encounter with Salvador Dali ("Just another day at the Chelsea," she writes), being mistaken by Allen Ginsberg as a starving young boy while waiting in a Laundromat. The cameos are frequent and always entertaining. It's certainly enough to make you wish for a time machine.
Above all else, Just Kids is a love story. Smith and Mapplethorpe's relationship is both sweet and downright mystifying; it's a love you won't see depicted anywhere else. And no matter what its terms, a friendship and romance that lasts a lifetime—transcending other partners, sexual identities, becoming a mother, and transitioning from starving artist to bona fide success—is one to be envied. Just Kids is Smith's love letter to Mapplethorpe, who died from AIDS in 1989, and a fulfilled promise to her best friend to one day tell their story.