For the past year, canines from all over Rutherford County have been having a blast at Doggie's Day Out.
Located near the corner of Medical Center Parkway and Memorial Boulevard, Doggie's Day Out provides an enjoyable atmosphere for man's best friend to relax, play with other pups or be pampered all under one roof.
Owner Denise O'Connell wanted a place for her four-legged friend to stay while she was traveling. She wasn't keen on crates and knew exercise was a must, but had trouble finding a pet daycare or boarding facility that could meet her preference.
Then one day she found it, and "my dog had a blast."
Upon her move to Tennessee, O'Connell decided she wanted to bring the Florida concept to other dog owners who wanted something different for their pets.
"We're not your typical kennel—there are no cages—it's a unique experience based on your dog's personality," she said.
"The safety of people and dogs is our first concern, and their happiness is a very close second. We want to make sure that every dog has a great experience."
Some dogs will play all day, while others opt to nap in the doggie lounge. Pups come in all shapes, sizes and personalities, and Doggie's Day Out aims to provide an experience catered to them all.
A renovated residential home, Doggie's Day Out features a bakery (for Fido, of course), full-service grooming station and indoor and outdoor play areas. The center even offers dog birthday parties for unique celebrations of cake, homemade treats and fun.
Staff is on-hand every minute a pooch is visiting, whether for daycare or boarding, and pet owners can view updated photos on Facebook of their daily playtime.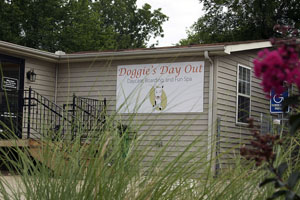 "It's like dropping your dog off at your friend's house and letting them babysit," O'Connell said. "At the end of the day, you can both go home and have a relaxing night together."
Before pets will be accepted to Doggie's Day Care, they must first pass a short assessment, wherein O'Connell introduces the dog to staff members and a couple of the staff's dogs to gauge behavior.
"There are certain behaviors that are acceptable," she said, and dogs that exhibit those behaviors are allowed.
Bordetella vaccines are also required every six months, and the inter-nasal option can be administered at Doggie's Day Out.
FYI
Doggie's Day Out
424 Medical Center Pkwy.
615-624-6140
www.doggiesdayout.net
Facebook.com/doggiesdayout