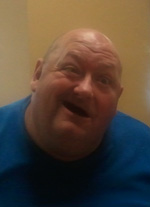 On just about any given morning, you can find a regular crowd gathered at the Hardee's on Middle Tennessee Blvd. This group has been gathering there for breakfast for many years. One of the faces tucked quietly in the crowd belongs to Robert Granger. In his younger day, Robert was a professional wrestler known as Mongo, the Mongolian Madman. Robert has shared the arena with the likes of Ric Flair, Macho Man Randy Savage, Abdullah The Butcher, Bob Armstrong, Papa Pump, Arn Anderson, Junkyard Dawg, Tommy Wildfire Rich, Wahoo McDaniel, Jerry Lawler, The Big Show and Hulk Hogan (back when he was known as The Golden Boy).
In his best accent and Mad Mongolian persona, Robert issued forth, "Hulk Hogan is wimp. Smell like perfumed yak." I have never smelled a perfumed yak, but I can't imagine that to be a compliment.
Robert is not shy about his past and you can tell when he starts talking about it, he holds a great deal of pride for his wrestling career. Mongo (he prefers that name to Robert or Bob) went to great lengths explaining the wrestling profession. The "work" is the term used to describe what happens, and it is indeed choreographed. They go into the rink with a good idea of how the match is going to proceed, the length and the outcome. That's not to say it's not a demanding profession; people do get hurt.
Mongo wrestled all over the country drifting from one area to another, and with the Mad Mongolian moniker, he was always cast as the bad guy. He has held several titles including taking the hugely popular Ric Flair's belt from him. He then added with a big smile, "For about an hour. It was just part of the show."
Mongo described The Big Show, Ric Flair and Jerry Lawler as shooters—people who get really physical while doing the work. When asked how he handled that situation, Mongo said, "I got physical back with them. One time, The Big Show slapped me so hard it knocked me off my feet, so I got up and said, 'Play time!' Then I head-butted really hard!"
Robert was born in Innsbruck, Austria; his parents were in the military and were part of the rebuilding efforts after WWII. They moved to Chicago when Robert was 5 years old, and that's where he was raised until age 17. He went into the Marine Corps in 1974, and he had a heart attack while in basic training. He found out later that he was born with a hole in his heart.
After recovering, Mongo joined the Navy and broke his elbow, ending his short military career with an honorable medical discharge. In his own words, "God didn't want me in the military."
After his second try in the military, he decided to settle for a while in San Diego. He liked San Diego and found work in the fishing industry. This is also where he started in the wrestling profession. He wrestled locally to make extra cash.
Mongo went to Indiana in 1979 and worked in a correction facility. While working there, he had another heart attack. Over the course of his life, Mongo has had a total of four heart attacks, all as result of the hole in his heart. In 1983, he ventured to Tennessee and went to work at the state fairgrounds. It was there that he got the name "Mongo". A 600 lb., red-faced Angus bull had escaped its enclosure and was running loose. After cornering the agitated animal in a big ditch, everyone else was scared to go in and harness the beast. Robert volunteered for this hazardous duty and when he the bull tried to butt him, the massive Mongolian hit the bull, knocking the animal off its feet. While the bull was recovering, he was able to slip the harness on and return the now-docile animal to its pen. One of the co-workers who witnessed this incredible feat started calling him Mongo, in reference to a character in the movie Blazing Saddles. He then decided he liked to be called Mongo more than Bob.
It was in Colorado that he started wrestling full time. Champ Thomas trained him how to shoot and do the work. "I learned all the aspects of the ring which is mostly stunt work and acting," Mongo said. His original name was The Yodeling Yankee because he yodeled for the crowd when he wrestled. A five-time national yodeling champ, Mongo learned how to yodel from his Austrian grandmother, a skill which he happily demonstrated. After a match with Abdul the Butcher, Mongo says they shaved his head in the ring and he decided to keep it that way since it added to the mad Mongolian image. He then added a Fu Manchu mustache and a ponytail to complete his image. He says he has wrestled with Championship Wrestling, WWE, AWA and the NWA. Mongo held four belts—IWA, NWA (for an hour), NIWA (in Japan) and the Intercontinental title.
"I'm 57 yrs old," he says. "I've wrestled all over the world. I wrestled in Japan for about six months as a Sumo wrestler. They loved me there. My favorite part of my wrestling career was meeting people. There are a lot of Christian people out there, worldwide, more than you would think." In the late '80s, Mongo finally had to give up wrestling because of his heart condition and back injuries he received in the ring.
In 1989, Mongo went to work at The Gerst House, a German restaurant in Nashville. He worked there for almost 17 years. Basically, he entertained people while they ate, and he played in the house band, Mongo and the Mad Bavarians. Mongo played the Boomba Stick and an Alpine horn. Along with being a wrestler and a musician, Mongo is also an accomplished artist. For several years before his health became too much a factor, you could find Mongo painting caricatures of people at Toot's restaurant and on the city Square.
In 2004, Mongo's right arm had to be amputated. The injury he received while in the Navy, never completely healed. It was also complicated by diabetes and a staph infection. Since he lost his dominant arm, Mongo's artistic days were over, or so he thought. While recovering from his amputation, his friends brought him his drawing pad. He told them that he could never use it again. But one day, while still in the hospital, he was quietly sitting outside and a small squirrel came up and sat in his lap. This little squirrel sent a charge through his entire body and inspired him to try again. By his own words, it was almost as though he never lost his right arm. He discovered he could draw with his left and he still does to this day.
Robert Granger has a pacemaker and two stints in his chest. He also has an artificial knee, and for the most part, he is confined to a wheelchair. Despite all of these serious health issues, Mongo continues to push forward every day. He has a booth at the Woodbury flea market and sells ink pens that he makes by hand. With only one arm, he hand turns these very intricate wood pens, and he sells them every weekend. At the conclusion of his story, Mongo stated that he is often a lonely man, and he lives on a meager income. But with his faith in Christ, his church and his friends, he will carry on. So if you see Mongo eating breakfast at Hardee's, selling his pens or drawing pictures at the flea market, stop and listen, because he has a story worth hearing.