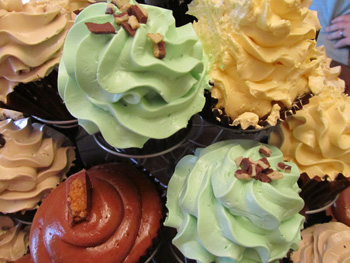 Editor's note: Just days before the release of this edition of The Murfreesboro Pulse, Naticakes owners made the decision to close the Murfreesboro location to focus on the Franklin, Tenn., and Lexington, Ken., stores. While we regret there is no longer a spot in Rutherford County to sample their sweets, we still wanted to tell the special story of how the business began and honor Miss Carter.

Featuring a simple yet elegant design, Naticakes offers a self-serve station with six frozen yogurt flavors alongside a bar with dozens of toppings. Customers can stop in, pick up a cardboard bowl and as much or as little of the selections as they prefer—the shop charges by weight.
In addition to the yogurt, cupcake flavors such as Cookies 'n' Cream (Oreo cookie crumb cake, vanilla Italian buttercream frosting, Oreo cookie crumb garnish), Dulce de Leche (vanilla cake, creamy dulce de leche filling, dulce de leche Italian buttercream frosting) and Opera Cake (almond cake, chocolate ganache filling, coffee Italian buttercream frosting, dark chocolate curls garnish) make incredible sweet treats comprised of a small cake, and a huge load of sweet, but light and fluffy, frosting.
And with advance notice Naticakes can offer large cupcake orders or even full-size cakes for parties and events.
In addition to satisfying a sweet tooth, customers are supporting philanthropic causes. In fact, that's what Naticakes is really all about.
"In August 2007, our little 'Naticakes' stepped into the other side of eternity—leaving her tiny, precious fingerprints on the hearts of all who knew her," the Naticakes website explains.
"Nati's gift of laughter and love for sweets was the perfect recipe to inspire her aunt Nicole to create a cupcake and yogurt concept that is almost as sweet as this little girl."
It went on to state that Nicole Sloane, founder of Naticakes, invested 10 years in campus ministry helping college students with personal growth and spiritual development in the States and Eastern Europe before transitioning into sales and marketing.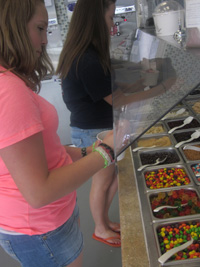 At a national training conference for Arbonne International, regional vice president Nicole Sloane was inspired by president Rita Davenport's philanthropic recognition of her colleagues and decided that she would create an avenue to generate $1 million to the foundation set up to honor her niece.
Within a week, Nicole's entrepreneurial husband, Michael, paired Nicole's passion with an emerging trend in the restaurant segment, and Naticakes was born.
In addition to providing healthy sweet treats—all of the yogurt is 98 percent fat-free and contains live and active cultures—10 percent of the profits from Naticakes will be given to support the ongoing efforts of the Natalie Wynn Carter Foundation that is committed to improving the lives of children throughout the world.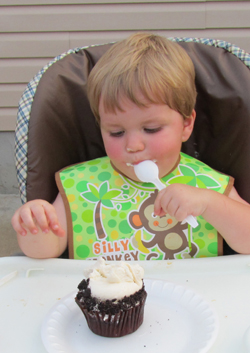 "These efforts will serve as an avenue for Nati to continually touch children's lives in the spirit of 'making life a little sweeter,'" the website continues.
The Natalie Wynn Carter Foundation, a 501(c)3, was started in late 2007 when Nati's parents Bryan and Erika Carter wanted to make something good come out of an unexpected passing of their daughter and to help her spirit live on through the efforts of the foundation making the lives of children better.
According to the non-profit's website, the foundation's mission has two main focuses: first, to provide spaces for children to play through the building or renovation of playgrounds, and second, to come alongside other organizations that do great works in the lives of children.
For additional information, visit the shop at 4115 Mallory Lane, Franklin, call (615) 791-5025 or visit naticakes.com.