Venture into Papa's Hot Sauce Store/Papa's Butts and BBQ, located on Highway 96 just west of I-24, and experience a magical world of peppery condiments of all colors and Scoville ratings.
The location also features a restaurant, offering smoked pork, brisket, chicken, wings and even meatloaf, as well as homemade pies, sides and an amazing bread that is like a buttery cornmeal pound cake.
As far as the hot sauce retail end of the business, Papa's proves there are options beyond Frank's, Tabasco and Texas Pete's. There are thousands of options, in fact, and Papa, a.k.a. Dan Wilson, is familiar with most of them.
"It's impossible to keep a current inventory list. Whenever he finds something new, he buys it," wife and business partner Teresa says.
Papa's even has its own line of hot sauce, their brand alone encompassing dozens of products, and the store carries plenty of rubs, salsas, marinades and sauces too. These offerings include Fire Ant Juice, Frostbite (a clear sauce), Day of the Dead Habanero Hot Sauce, Pain is Good Jamaican Jerk Style Hot Sauce, Skull Blaster (a roller coaster or condiment?), Butt Twister, 7-Up citrus marinade, A&W Root Beer barbecue sauce, chili starter, raspberry mustard and lots more.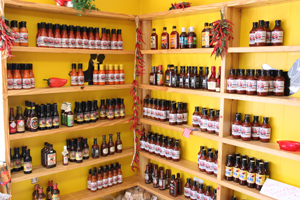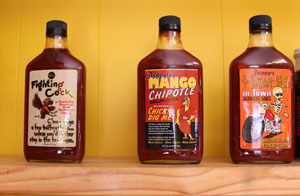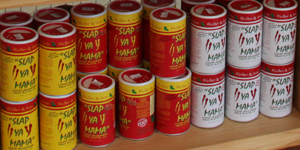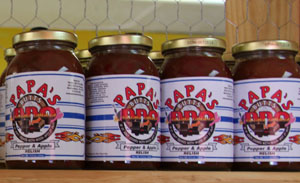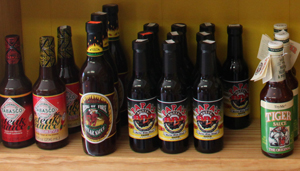 Papa himself lists garlic habanero and chocolate habanero (Don't be deceived by the name. This is no ice cream sundae sauce. The chocolate refers to the deep color of this pepper variety.) as his two favorite hot sauce varieties. As far as the hottest: "On our label it's a toss up between tropical heat and extract sauce," he says.
Many of these products are available for purchase at papashotsauce.com. The site currently lists 415 hot sauces for sale, and that's not counting all of the other relishes, barbecue sauces, spice blends, dips and so forth.
But if you only visit the website, you miss out on the cooking and the hot sauce sampling station.
I had a pretty good time at the sampling table, trying hot sauce varieties of all types—the fresh and tangy citrusy Serrano lime sauce; the interesting, mild flavor combination of peach and Vidalia onion sauce; the flavor-packed, but not too hot cayenne and minced garlic. But then I get to something called the Scotch Bonnet. Funny thing, come to find out the Scotch Bonnet is an incredibly hot pepper variety, despite its delicate-sounding name. Its hotness is on par with the habanero, in fact, according to the Scoville scale.
It took a while to return to normal after my visit to the sampling station.
Interestingly, Teresa says she's "really not a big hot sauce person," but added "I do love the candied jalapeños; they're my favorite thing in the store."
Papa's has some delicious sweet potato butter for those who care not for any heat at all.
The couple has operated a fencing store at the Old Fort Parkway location for 19 years.
"The people who've tried his food kept saying 'you need to open a restaurant'; we had the space," Teresa said.
The hot sauce store opened in December 2009 with the restaurant coming in October 2010.
Dan refined his barbecuing skills during church functions. He attends Leanna Church of Christ and brought out the smoker to feed the congregation at get-togethers.
"My hobby took on a life of its own," Dan says.
The smoked meatloaf exemplifies the slogan "If it ain't cooked on wood, spit it out." And the wings are so peppery and flavorful, you don't necessarily need sauce on them. But with a sampling bar with dozens of the store's hot sauces available to try out, throw something on there; it is a hot sauce store after all. In addition to all of the hot sauce bottles for sale, a couple of pretty tasty blends are also available right on the tables. The hot at first doesn't seem too hot at all; it starts as sweet as candy, but give it a few seconds and some beads of sweat will form on your forehead and your mouth will be burning . . . with delight.
Papa's also hosts some barbecue competitions, the next competition being Saturday, Oct. 1. The public can purchase tickets for this people's choice wing cook-off for $10, and sample the entries.
For more information on competing or tasting, contact the store at 225-0281.
The Dish:
2910 Old Fort Pkwy.
615-225-0281
Mon.-Sat. 11 a.m.-8 p.m.
Rib plate (with 2 sides and bread): $6.95; 1 lb. pulled pork: $7; 10 wings: $6.95; fried pies: $2.45
papashotsauce.com