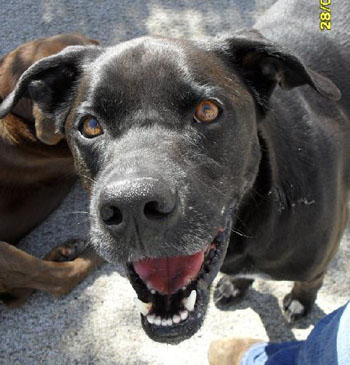 Bosco is an adorable adult Boxer Mix. He is neutered and up to date with his vaccinations. He has such a gentle playful personality; he would make anyone a great pet. He is housebroken and gets along well with other dogs and children. He's now 7½ years old, but has the energy of a much younger dog.
Bosco's mother was a beautiful purebred boxer. She came into rescue pregnant and had her litter here at Middle Tennessee Boxer Rescue. Papa was obviously a black lab, as Bosco looks like a smaller black lab. Although he doesn't look like a boxer, he has a boxer temperament. He was adopted to what seemed to be a great home and lived there for six years. However, when he was about six years old, his adopter brought him back, saying he was "destructive." As it turned out, she had been leaving him outside alone all the time; no wonder the poor, bored boy got into things!
Primary Breed: Black Labrador Retriever
Sex: Male
Altered: Yes, Neutered
Up-to-date: Yes
Coat Length: Short
Grooming Needs: Low
General Color: Black
General Age: Adult
General Size Potential: Large
Has Special Needs: No
Personality and Behavior
Indoor/Outdoor: Indoor Only
Requires Home with Fence: Any Type
Reaction to New People: Friendly
Compatibility Information
Good with Kids: Yes
Good with Adults: All
Good with Dogs: Yes
Inquire about Bosco at: petfinder.com/petdetail/18274112 or fill out an adoption application at mtbr.org.