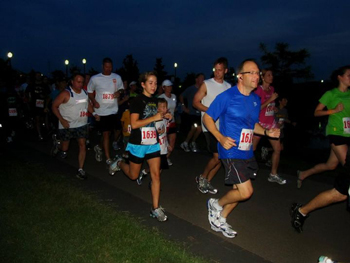 Local runners come out in droves to support good causes, compete against other runners and try and top their own personal best times.
S.A.V.E. the Night 5k, put on by a local group in support of rebuilding a village in Haiti, was run at sundown on July 30 at Gateway Island Park.
John Woodman led this field, posting a 17.11 5k time, and Taylor Vroman's 20.52 led the females.
In the Smyrna Park's 5k on Aug. 6 Keith Davis' 16:01 time bested the field, and coming in at 19:42, Theresa Saupe led the females.
In the Fenton Payne and Fred 5k, which traveled from MTSU down East Main to the Square and back the morning of Aug. 20 and raised thousands of dollars for the Primary Care and Hope Clinic, Blue Raider Athletic Association and Special Kids, MTSU track team member Festus Chemaoi put up a blazing 15:06, with Sonja Friend-Uhl leading the ladies with a 17:23.
Upcoming area runs include:
Run Chicken Run held at 7 a.m. Saturday, Sept. 3. This 10k begins at Gateway Island Park and winds through Stones River Battlefield. Every 25th finisher in this one will receive free Chick-Fil-A for a year.
Cumberland Caverns 5k, a trail run in the woods and hills surrounding the entrance of Cumberland Caverns in Warren County, and set for 8 a.m., Saturday, Sept. 10.
Warrior Dash, an extreme, obstacle-filled run held at the Bonnaroo site in Mancheter on Saturday, Sept. 17.
Cannon Blast 5k, benefiting Cannon County Youth Dream program and starting at the Arts Center of Cannon County at 7:30 a.m. Saturday, Sept. 17.