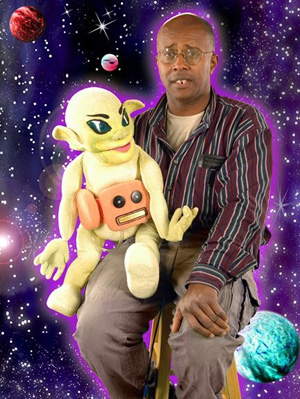 I first encountered the workings of David Liebe Hart while watching season one of Tim and Eric Awesome Show, Great Job! on Cartoon Network's programming block Adult Swim. I must say, a mix of emotions came over me while taking in the musical efforts of this puppeteer/singer/songwriter/painter.
Sometimes a person can take it a bit far in comparing the art of one to that of others, but in an attempt to simply describe DLH, I'll go and say he could be a love-child of Jim Henson and Wesley Willis.
Hailing from Park Forest, Ill., in the area of Chicago, Liebe Hart moved to Los Angeles in the mid-seventies to pursue his dream to be an actor and musician. He claims to have made his start doing stand-up comedy at the Comedy Store with Robin Williams, though, he admits Williams is in denial of having been his friend.
Liebe Hart says he made guest appearances on The Golden Girls and Wings and I did find a clip on YouTube of him briefly appearing in a scene on Good Times, but his first true mark on Hollywood was his own show on Los Angeles public access television, which ran from 1988-2008, called the Junior Christian Science Bible Lesson Show.
In more recent years, Liebe Hart gained national popularity with appearances on Tim and Eric Awesome Show, Great Job! and its spin-off Check It Out! with Dr. Steve Brule, as well as Tim Heidecker and Eric Wareheim's first program on Adult Swim, Tom Goes to the Mayor.
All said, David Liebe Hart will be performing a Halloween show in Murfreesboro at Gilligan's (527 Main St.) on Monday, Oct. 31. I've presented a brief introduction into his world, but I invite you to explore onward through his own words, which I found much more intriguing than any I could use to describe this unique personality.
The Murfreesboro Pulse: Can you tell me about how you met Tim Heidecker and Eric Wareheim and share a little about your experience working with them?
DLH: Tim and Eric saw my public access show, and they used to do a public access show as well in Pennsylvania, where they came from. They were very impressed with me and called me to start working on their show in 2005, writing songs and performing them on the show. I also got to do a couple of tours with them and perform my songs onstage.
MP: Now that they've finished producing the series Tim and Eric Awesome Show, Great Job!, where does that leave you?
DLH: Lately I'm disappointed because I've been laid off by Cartoon Network. Tim and Eric cut me off from working on their new show, and they've cut me off from going on tour, but on the other hand, I'm grateful for all the work they've given me and all the fame I've gotten from working with them.
I mailed out pictures and resumes to all the new TV shows that are out and I'm really disappointed that I haven't been cast in any of them. So I'm back to street performing outside of the Hollywood Bowl. I'm selling portraits at the Santa Monica Pier, doing different nightclub jobs with the David Liebe Hart Band, and then I also paint murals and signs for different companies. But it's a gamble, just trying to make ends meet. I'm walking on a rope, you know.
MP: Talk to me about the Junior Christian Science Bible Lesson Show. What was your inspiration for doing the show?
DLH: At one time, I had the experience of having Jim Henson as a Christian Science Sunday school teacher. Before he passed, he told me he wanted to do a puppet show teaching kids to stay in school and say no to drugs with the Christian Science teachings, and he said he wasn't going to be alive to do it and would I take over his dream. I agreed to do it and the Junior Christian Science Bible Lesson Show was born.
It was sponsored by a pharmacy which helped pay for the tapes, and my cousin, who owned property all over Los Angeles, helped pay for the show while she was alive. I had many puppets like Chip the Black Boy and Doug the Dog, as well as different guests from other religions and different ethnic groups to try to be inclusive for all people. And the show would've still gone on if the City of Los Angeles hadn't gotten rid of public access.
MP: What are some of the major inspirations for your songwriting?
DLH: It hurts me that a lot of people are addicted to drugs and pornography, which is wrong. I feel we need to get back to family values and the morals we used to have. Some of the songs I write with my friend, Adam Papagan, and others I write by myself. I also strongly believe in the UFO phenomenon, that it is real; it's not make believe or fiction. President Obama was going to reveal the UFO presence among us, and then he got stopped.
MP: The first song of yours that I ever heard was "Salame" on Tim and Eric Awesome Show, Great Job!, which you described on the show as being about an alien race called the Korendians, which Salame is their common greeting word. Would you enlighten me on your experiences with the Korendians and any other alien races you may have encountered in your life?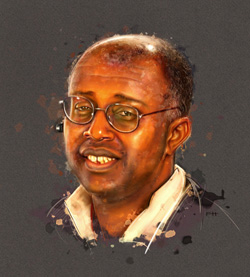 DLH: How I got in touch with the Korendians is, on my Caucasian side (Hart claims he's of mixed race on both sides of his family), I'm related to Orville and Wilbur Wright, and my grandmother told me that they got their back engineering by working with an extra-terrestrial race called the Korendians. She told me she was in contact with them and she told me, before she died, that they were going to make contact with me.
I met this beautiful woman that looked like Betty Page, and she was extremely outstandingly beautiful. I mean, she was built like a Playboy model. I met her at La Brea Tar Pits and she told me that her race had the back engineering to help make the airplane and a lot of the technology that we take for granted, like the TV and computers that we use today.
Another race that's made contact with me are the Omegans. All the Irish and Scottish are their descendents. Unfortunately, even with all the modern technology extra-terrestrials have provided and the building of the pyramids and the statues on Easter Island, they haven't been able to overcome one limitation that we also have, and that is war, which is very sad. And it broke my heart that the Omegans and Korendians have been fighting a 200-year war.
MP: This is all very fascinating. Have you had any contact recently with any of these extra-terrestrial beings?
DLH: They have cut off contact with me. The Omegans have cut off contact with me because all everybody wants to know is about the Korendians, all everybody wants to know is about the Omegans and they want their privacy, so they've cut off communication with me.
MP: Did you ever get to travel away from this planet with any extra-terrestrials?
DLH: No, I was going to go to the Five Moons Festival but the protector didn't return my e-mails or my phone calls, and then his phone got disconnected and his e-mail got disconnected and everything just, you know, worked its way away from me. But we are all descendents of extra-terrestrials and we don't even know it, you know.
MP: It's interesting to hear you talk about this because some people may scoff at the idea.
DLH: Well, people don't want to believe in the UFO phenomenon, but it's just as real as you and I talking on the phone. A lot of things that kids make fun of as a joke is not fiction, but it's real. There is a church of Satan where people worship the devil, there are people that believe in witchcraft and there are people who believe in Christ Jesus that live life. But for some strange reason our society doesn't want people to accept the truth. They want it to be accepted as fiction, but it's real.
MP: I feel as if I could converse with you about UFOs all evening, but I do have a couple of questions regarding your upcoming Halloween performance in Murfreesboro. Is this show part of a tour or is it a one-event outing for you?
DLH: I'm hoping to do more shows in the future, but, yeah, in the future I'm hoping to do more shows.
MP: Now are you going to be performing solo or are you going to have any backing musicians?
DLH: I'm going to have a band behind me. I'm gonna have Phil as my tour director, Adam Papagan is gonna be there, and then I'll have a drummer and a keyboard player, and I'll be singing. And then I'll be autographing pictures and selling CDs at the end of the concert and doing portrait sketches of people.
I also sell my artwork on the website. If you want a professional painting made of you or your girlfriend or someone that's close to you, you can Facebook me, David Liebe Hart, or you can go to artbyliebehart.tumblr.com and see some of the paintings I've done of other people. And there are a lot of alien ones. I've sold several paintings, uh, in fact, my paintings are doing very well.
MP: Can your Middle Tennessee fans expect to see you perform your songs from Tim and Eric Awesome Show, Great Job!?
DLH: Unfortunately, I'm not allowed to use the songs I wrote for Tim and Eric's show, they were for hire. Warner Bros. owns them and they told me that it's copyright infringement, even though I wrote the words and music, and they warned me not to use these songs. I don't think it's fair and those are the songs that made me famous, but I don't want to get in trouble, and I can write other songs just as good as those.
Liebe Hart informed me he will be performing newer material including songs he's written about Ellen DeGeneres, Betty White and one about a fat, topless girl. Even better than his words, online links featuring David Liebe Hart have provided me many minutes of entertainment. I encourage you to search him on YouTube, AdultSwim.com and check these ones out, specifically:
youtube.com/watch?v=Kc-mZVPGKSk
video.adultswim.com/tim-and-eric-awesome-show-great-job/stay-in-school.html
youtube.com/watch?v=bGIClBgsX7E&feature=related
youtube.com/watch?v=b1Lnyr6JBK8
Liebe Hart's songs from the first and second seasons of Tim and Eric Awesome Show, Great Job! are featured on the Tim and Eric album Awesome Record, Great Songs!
Information on the Halloween show and ticket pre-purchasing can be found at facebook.com/event.php?eid=107052569396884. The show is 18 and up and admission is $10. Other bands performing include Hanzelle, Infinite Orange, Paper Not Plastic, Tron 8 My Baby, and more. This could be a scary experience, indeed. Put on your best costume and join the festivities for what will surely be an unforgettable night in Murfreesboro.