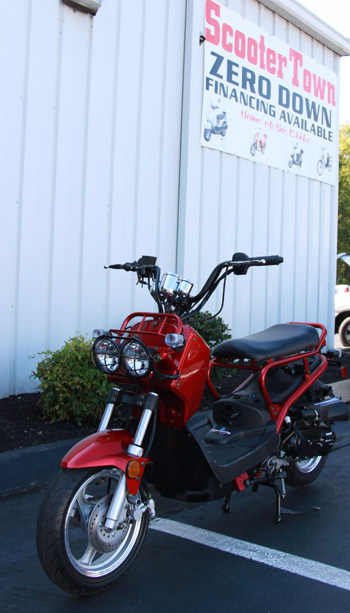 Who's sick of paying so much for gas?
One of the universal themes in American life over the past few years is "gas prices are killing me."
What if there were a machine that uses a fifth of the amount of gas most automobile do and can still get you from place to place? What if one of these machines could be yours for $100 a month? What if they were actually pretty fun to ride?
Well . . . there is, it can and they are, and Scooter Town on NW Broad Street has plenty of them in a variety of colors and models, as well as a full service department and accessories.
Your Pulse publisher has decided his little Honda Civic was not nearly economical enough and has joined the scooter revolution!
My sleek 150cc Peace Motorsports scooter gets 92 miles per gallon according to initial calculations; some of the 50ccs can go upwards of 120 miles per gallon of gas by some reports.
Utilizing a handy cargo box on the back and the area under the seat, this thing can actually carry four or fives bags of groceries, and it's not like the people behind me at a green light are waiting on me to putt up the road; this bad boy will accelerate as quick as you'd want it to for in-town driving and can get up to 60 mph with little effort.
Drivers of scooters under 50cc do not even have to have a motorcycle license, or even tags, to operate, though these smaller machines are not legal on divided highways and top out around 35-40 mph.
Scooter Town founders Terry "Bear" Beasley and Carl "Bucky" Brent have been motor sports enthusiasts for most of their lives and have a long history in auto sales. Beasley was the longtime operator of Georgetown Exchange RV and camper business, and Brent has been known to find some killer deals at the auto auction and also serves as an auto arbitrator. Earlier this year the two determined the Murfreesboro market was ripe for a scooter dealership.
"You hear the expression a lot, but this is something that will literally pay for itself," says Bucky.
If you figure your car gets 25 miles per gallon (and if you have an Excursion, it doesn't), and gas is $3.25 per gallon, your gas cost per every 1,000 miles is $130. If a scooter gets 100 miles per gallon, at the same gas rate, you'll pay $32.50 for for gas per every 1,000 miles driven. That's nearly a $100 savings in fuel costs alone per every 1,000 miles driven. And this is not taking into account the higher costs for oil changes, tires, insurance, fluids and "wear and tear" on a larger automobile.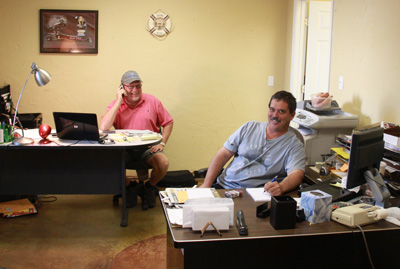 Murfreesboro Pulse: Tell me why you decided to open Scooter Town.
Bear: We needed something to do; we were about to starve. (laughs) We felt it was good timing, a good opportunity, we had a good facility, the stars just aligned.
Bucky: It's a niche market that no one in town was serving. Plus there's a college right down the street with 26,000 registered students and 15,000 parking spots.
Bear: That means some of them need to be riding scooters!
MP: What's your favorite part about your job?
Bear: Being excited about something; it's gratifying to do something new.
We like to make them go faster too! (yes, even a little scooter can be modified, enhanced . . . souped up, and Scooter Town will be happy to make those adjustments for the interested scooter rider.) Giving someone a break on their gas expenses.
Bucky: We like the "green" element of it too—less gas, fewer emissions, etc.
MP: What is your least favorite or the most difficult aspect of running the business?
Bucky: There have been some police who have written (scooter riders) tickets they shouldn't have. The people can get out of the tickets, but will have to go to court to fight them. ("Anyone with a valid Tennessee driver license may operate a motorized bicycle that is 50cc or less and no endorsement is required on the driver license," according to tn.gov.)
Bear: Going three days without selling a scooter (laughs). Dealing with regulations; we had to hire a lawyer to clear some things up.
MP: What advice do you have for people starting a small business?
Bear: Professional work is not an accident. We've always had good reputations; we're prideful people who want to do things right. Sometimes success is being able to do what you enjoy doing. And stay out of the bank.
Bucky: Be honest and attentive to the customers' needs.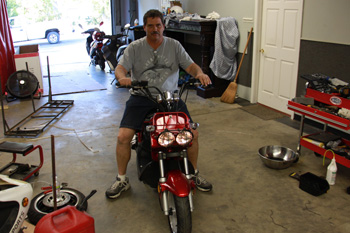 MP: Who are some of your top customers?
Bear: The demographics are all over. We thought it would be mainly college-age customers, but most who have bought a scooter from us are 35-60. Anyone who lives 10-15 miles from work; they buy them for the gas savings alone. Some just enjoy the ride. We've sold a lot to high school kids to commute to school and after-school activities.
Bucky: Someone who bought one here in June just came in and said he'd put 4,200 miles on it; he said he's already gotten his money's worth out of it. Plus they really are great for MTSU campus parking nightmares.
MP: How are you getting the word out about your business?
Bear: The scooters out front in the grass bring people in.
Channel 5. The Pulse.
MP: What else would you like Murfreesboro to know about Scooter Town?
Bucky: We now actually finance these scooters in-house. We also do any kind of small engine repair (lawn mowers, four wheelers, etc.) in addition to servicing scooters.
~~~
So, get on down to Scooter Town! Scooters start at $949, are low maintenance and have great resell value.
Study your motorcycle handbook if you need the endorsement, and ride alert, Murfreesboro.
For more information, call (615) 962-4165 or visit scootertown.biz.