Murfreesboro is home to a variety of artistic talent including filmmakers producing films spanning a multitude of genres. Writer/director Nathan Fisher recently premiered his third locally produced short film, 109, in Murfreesboro. First-time filmmaker Ella Sadler recently filmed a 5-minute silent film on location in Murfreesboro entitled Anna Goes Out. Completely self-educated, this is Sadler's debut. Local filmmaker 'Umar Dunlap is currently working on a film documenting a former aspiring hip-hop artist after his conversion to Islam.
Fisher's 109 tracks the bizarre steps taken by a deeply disturbed loner totally controlled by his obsessions. He may have found a salve for his tortured mind, but at what cost? It features a talented cast of experienced performers as well as the film debut of Murfreesboro resident Rob MacLaney. 109 delves into the unexpected horror of the everyday.
Shot on location in Murfreesboro, Lebanon and McMinnville, Tennessee, 109 is Gonzo Entertainment's most ambitious effort to bridge high production value with low budget filmmaking.
"The cast and seasoned crew have succeeded in telling a simple story that still contains tremendous depth and will definitely leave audiences talking," Fisher said. 109 also features an original soundtrack by Murfreesboro musicians including John McGhee, Jonathon Nash, Lars Hall and Kenny Johnson.
The world premiere was held at the Boro Bar and Grill in Murfreesboro along with a screening of Gonzo Entertainment's award-winning 2010 release The Island and other selected locally produced short films.
Nathan Fisher is a long-time Murfreesboro resident and graduate of MTSU. He was a fixture for many years on the local music scene as the front man for Murfreesboro punk band Doctor Gonzo. He is also well known as the long-time play-by-play announcer for The Nashville Rollergirls Roller Derby team. He made his first film Beyond the Wall of Sleep in 2009, followed by The Island in 2010.
Many don't realize this, but in 2011 it is cheaper and easier for the average person to make a quality independent film than it ever has been. In the future, talent and effort will determine success, rather than budget and happenstance. It's a more egalitarian marketplace.
"I'm just embarking on my film career," Sadler said. "In fact, Anna Goes Out is my first film."
It was filmed on a meager budget of $3,500, which is primarily just the cost of the camera and lenses.
"Because it was my first effort, my approach was fairly nontraditional; I didn't script or storyboard. I went out with an actress, a production assistant and a vague idea of the story I wanted to tell, and I simply filmed. Part of the joy of this experience was filming a young woman's coming-of-age story in and around the house where I myself grew up, revisiting that place from the perspective of someone who was discovering it for the first time. It added a level of meaning for me personally, as did the theme of the main character sallying forth into an unknown landscape, which coincides with my own first venture into the frontier of modern independent film."
Sadler is taking what she learned from this project and moving forward. She formed her own production company, Sadlerella Story Company, with the objective of producing high-quality, socially conscious films on a micro budget using the stunning array of new technologies that are available to low-budget filmmakers.
Anna Goes Out was conceived and filmed over a two-day period at the end of July 2011, in Murfreesboro in and around the house writer/producer/director Ella Sadler grew up in. It was shot with a Canon 5D Mark II utilizing only available light. The film enjoyed a month-long web release and is now available for download from iTunes.
"I just made arrangements to shoot my next short, Two Weeks Till the World Ends, in Murfreesboro after Christmas," Sadler said. "It's about a pair of runaway teens who hide out in a cheap motel, confiding in each other and waiting for their money to run out." Hillarie Loeffler will star in this project.
Sadler, an MTSU graduate, is also a writer, actress, vocalist, visual artist and formerly a fixture in Murfreesboro's local theater community. She is self-taught, having never attended film school. She is now residing in Philadelphia, Penn., with husband Raoul and scheduled to go into production on her first feature film in the summer of 2012.
"A large chunk of any profits from this feature will be donated to charities concerned with the plight of abused and bullied children, as this is a theme that is highly relevant to the film," Sadler said regarding the upcoming feature, entitled The Bad Boy. "This is in keeping with a major objective of my film company, which is art for the betterment of society rather than art for profit."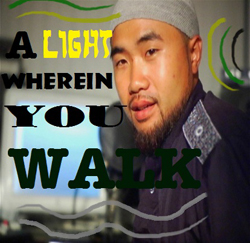 'Umar Dunlap's documentary A Light Wherein You Walk is currently in production. The trailer and online fundraiser can be viewed at indiegogo.com/the-light. 'Umar Dunlap is a Muslim-American filmmaker, a convert to Islam himself, and has lived overseas in Egypt for a year working for a television studio.
"I am making this film because of all of the anti-Islamic sentiment in the world today. The goal is to show that this religion, Islam, can actually benefit people, and make them kinder, gentler people, as is the case with all of the worlds major religions," Dunlap said. "If you look at the subject of the film, Muhammad Anwar, you see a person who went through a lot of transitions in his life. Back when he was known as Jack, he was a rapper, he hung around with a lot of bad elements of society, and even he will admit that he was a very arrogant, condescending person."
His rap pen name was actually "Jack Selfish." He jokes now that he went from "Jack Selfish to Anwar Selfless."
"And he never would have made such a dramatic turn around if it wasn't for his conversion to the religion of Islam," Dunlap said. "It's the story of someone who grew up in poverty, was surrounded by crime, was himself very arrogant and prideful, and wrote lyrics that praised womanizing, stealing, conning people, but then turned all that around because of Islam."
"He took his understanding from a Pakistani scholar," Dunlap said. "He follows his school of thought, known as the Qadriyya school of thought. It's really flipping the switch and telling a different story about Islam, about rap, hip hop, and about how people change, radically different from what you're likely to hear on most mainstream news media channels."