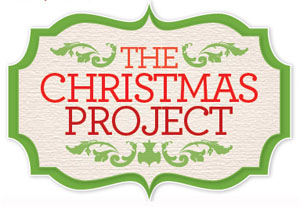 This year we wanted to do a countdown to Christmas that would encourage our readers to give, serve and help others. If you're reading this, we challenge YOU to spread the love this month by sharing small acts of kindness. As you do so, we hope you'll experience the true meaning of this wonderful season. If you don't have the budget to carry out all of the challenges we've listed below, get creative and come up with some ideas that don't cost anything, like returning a shopping cart for someone at the grocery store or letting a driver merge in front of you in traffic. It's the thought that counts.
Dec. 1
Leave candy canes on parked cars, along with notes wishing people happy holidays. Fold a gas card into a couple of the notes if you can afford to do so. Hospital/doctor's office parking lots are a good place to start.
Dec. 2
Surprise a special friend who you haven't seen in awhile with Christmas cookies and hot chocolate.
Dec. 3
Donate generously to St. Jude Children's Research Hospital. They save the lives of children with life threatening illnesses. You can do so online, or visit Smyrna's Malco Theater and buy $20 or $50 worth of film bows (proceeds go to St. Jude's). Give the bows out to friends.
Dec. 4
Leave your mail man/lady a treat and along with a Christmas card, thanking them for delivering your mail each day. Also, leave special treats for the city worker who picks up your trash each week. Put a long two by four in the trashcan so the lid doesn't shut and hang a gift bag on the outside with a note that's clearly visible. Be sure and leave them treats worth getting out of the truck for though, like cookies and milk, or a bag full of Christmas candy.
Dec. 5
Tape some quarters to a vending machine with a note that reads, "A random act of kindness for you. Have a blessed day." Be sure and tape it where passers-by can see it. Stop in at a laundromat and leave quarters laying around. If you're at a playground, leave quarters where children will find them.
Dec. 6
Take Christmas candy and cards to an assisted living center, along with magazines and puzzle books, if your budget permits.
Dec. 7
Purchase a grocery gift card and give it to the person standing in line behind you, or leave it on someone's car in the parking lot. On your way out, help an elderly person load their groceries and return their cart for them.
Dec. 8
Pay a parking ticket for someone -or- If there's room in your budget, when you pay your utilities this month, request to pay for someone else who's past due on their bill.
Dec. 9
Visit a hospital and take treats or pretty poinsettias to the nurse's station and to recovering patients. Or visit a children's clinic and take helium balloons to kids in the waiting room. Tie the balloons to candy canes so they don't escape.
Dec. 10
Deliver hot chocolate to a Salvation Army bell ringer. If it's warm out, take bottled drinks or Sonic cherry limeades. If you frequently shop at Walmart, take a Christmas card with an enclosed gift card to the door greeter.
Dec. 11
Take sandwiches and lemonade to your local fire station.
Dec. 12
Burn some CDs of your favorite songs; take them to your neighbors. Take some time to chat and get to know them better.
Dec. 13
Visit Linebaugh Library and request to pay someone's overdue fines. Take treats for the librarians. If you have children, be sure and take them along and read them a story while you're there.
Dec. 14
Adopt a soldier. Our soldiers need to know we appreciate them, especially during the holidays.
Dec. 15
Pick an angel from an angel tree and purchase gifts for a child in need. Lots of local stores have angel trees, including Walmart and Kroger.
Dec. 16
Visit a local pet shelter and hang out with the homeless animals for a little while. Make a donation while you're there if you can't take a furry friend home with you.
Dec. 17
Clean out your closet and take toys, clothing, and shoes that you no longer use to Goodwill or Room at the Inn.
Dec. 18
At the drive-thru window, pay for the person in line behind you.
Dec. 19
Mail out Christmas cards to friends and family. Mail a special anonymous one with cash or a gas card to a friend in need.
Dec. 20
Donate to Nashville Rescue Mission or Honor Flights.
Dec. 21
Anonymously pay for someone's dinner at a restaurant or leave a special Christmas tip for a deserving server.
Dec. 22
Take Christmas cookies or sausage balls to your co-workers.
Dec. 23
If you travel during the holidays, take small bags of treats to pass out to the airport workers who work hard during the holidays to ensure that you make it safely to your destination.
Dec. 24
Stop in at a gas station and leave treats for the attendants working Christmas Eve.
Dec. 25
If you're blessed enough to have parents and grandparents still living, be sure and spend time with them on this day, even if it means going out of your way to do so. If you have strained relationships with family members, today is the day for reconciliation. Our relationships with others are the most important thing we have in this life. Don't let them go to waste.