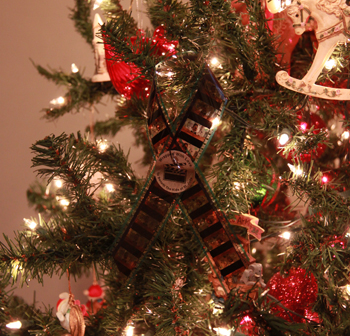 All Malco Theatres, including the location in Smyrna, are once again supporting the work of St. Jude Children's Research Hospital with a holiday project that also gives film enthusiasts the chance to literally keep a piece of film history.
The 30 Malco locations throughout Tennessee, Arkansas, Missouri, Kentucky and Mississippi are cutting strips of film actually used at the cinemas, forming them into bows, selling each one for $1 and donating the funds to St. Jude.
This Wrapped with Love program, now in its fourteenth year, runs through Christmas Day.
St. Jude was founded under the premise that "no child should die in the dawn of life," and the hospital's researchers have made significant strides in treating leukemia and other cancers in children. Most of the facility's operating budget comes from charitable contributions, and families without insurance are not asked to pay.
Some of the patients of St. Jude and their families actually participate in the handmade creation of the bows at the hospital. During the activity, reels of movie trailers were cut, stapled and sealed with a special sticker that reads "Wrapped With Love . . . To Benefit the Kids of St. Jude."
Approximately 500,000 bows have been sold over the Malco project's past 14 years, raising half million dollars for St. Jude, says Karen Scott, marketing director for Malco Theatres. The treatments at St. Jude can be incredibly expensive.
"We do know that $50,000 barely pays for one day of treatment for a St Jude patient," Scott says.
The film used in the bows could come from a wide variety of movies released over the past few years.
It's believed these bows may eventually be collectors' items as the film industry progresses into digital technology, Scott says.
Each bow is made of about 24 frames, which is about one second of a movie. The sound for each movie is encoded on the edge of the film and appears green.
Malco Theater is located in Smyrna just off of Sam Ridley Parkway, near I-24.