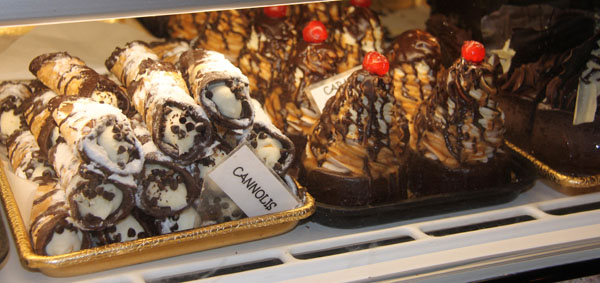 Being a man of tradition, it always bums me out when things I have known since my childhood go away. Case in point, the Shoney's on N. W. Broad Street. Even though it wasn't the original building where my grandmother took orders (that was next door, now a liquor store) and the drive-in that my dad and mom's generation cruised on Saturday night, it still felt like part of my youth. So, I'm having a hard time getting used to not having a Shoney's on Broad.
But, change can also be a good thing; case in point, The Gondolier Italian Restaurant and Pizza. It replaced my old Shoney's and I must admit, it's a good replacement.
With the winter setting in on us, a good, hearty meal that will stick to your bones is often is a perfect finish to a busy day of Christmas shopping or a good way to fight off the cold of winter. In that respect, Italian food is lot like Southern home cooking. If it's done correctly, it's a meal that warms the body and feeds the soul. And like those good Southern meals, it's easy to tell if it was made fresh by people that take pride in what they do. The food I have tried at the Gondolier makes me believe that they take a lot pride in the way they prepare their meals.
They have a full menu of traditional Italian food, with a home-cooked touch. Everything from the stromboli to the canoli are make fresh daily. White and stuffed pizzas, tortellinis, baked rigatoni, lasagna and dozens of traditional Italian dinners fill their large menu. Not just Italian fare, they also have Greek dishes, salads, sandwiches, pitas, subs (hot and cold) and burgers. You can also get beer and wine with your dinner. With a menu that big, you would think that would be enough, but wait, there's more. When you walk in The Gondolier, the first thing you notice is the large dessert display. All these desserts are made in-house, daily. You can't help but be impressed by the sophistication of these desserts, and the portion sizes are huge. You could make a meal just out of one dessert here. One look at that huge array of culinary treats will have you trying to figure out how to save room for dessert.
My first experience with The Gondolier made me a big fan of the place. One night after catching a play, I stopped by the liquor store for some essential supplies, and as I left, my stomach made it clear that I needed to eat. The play was a long one, and it was around 10:45 p.m. That usually limits where you can eat in Murfreesboro, as most restaurants have turned off their signs and are hurrying customers out by then. Since it was next-door, I noticed that The Gondolier had the Open sign on and all the lights burning. Not only were they open, but they were happy to see us and welcomed us with open arms. The service was fantastic, and when general manager Ike Dalitsouris came by and asked how our meal was, I started to apologize for dining so late. He stopped me and informed me that the doors don't close till 11:00 p.m. and that they were happy to have us. The waitress, Cassandra, was also happy to see us and gave us excellent service. Ike, in his really cool Italian accent, explained to us that customer service is their main concern and the doors don't close till its closing time.
On my next visit, I sat down with Ike and owner Rita Papaionou and had a discussion about the Gondolier. "We are family owned and operated; we have created a family atmosphere. Come on in, take your time, get to know us and get great service," Rita said. Ike added, "This menu has been refined and added to for over 30 years. Customers asked for dishes, we would make it as a daily special, and the best ones were added to the regular menu. We completely remodeled the place to have an Italian family feel. We also have six TVs placed around the restaurant, if you want to catch the game, and a private party room that will accommodate about 40 people." That sounds like a great place to throw a Christmas party.
"We serve large portions at very reasonable prices. We have everyday lunch specials like 8 inch one-topping pizza with salad for $5.79 or an 8 inch cheese pizza for $3.99," Rita said. Ike continued, "We give a 20 percent discount to senior citizens, college students, fire, police and EMS in uniform, with a badge or proper identification. If any of these groups bring their families, we will give 10% off the entire bill." As we finished our chat, I asked Ike what he most wanted the readers to know. He smiled and said, "The most important thing for people to know is the value they get here in a nice, relaxing, family atmosphere" So, go on by sometime and check out Gondolier for yourself. Tell 'um Tony sent ya.