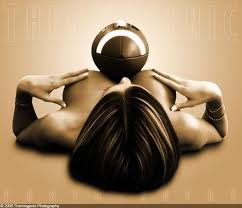 HO, HO, HO and a bottle of rum, 'Tis the Season to be jolly and to celebrate the great Fs in the world: Football, Family, Food, Friends and Freaky Freak Women, HO, HO, HO! I hope everyone's Thanksgiving was as pleasant as mine was; I enjoyed all of the great Fs. Christmas is now just around the corner; 'tis the season for fantasy football playoff time and boiled custard!
December is a great time for family and for sports; it's also a rough time for some. Some folks may not be as fortunate as others, some folks may struggle financially during the holidays or just don't have family to spend the holidays with. Whatever your situation, good people will get what they deserve in time. My good friend Mr. Scottie B, told me the other day that people in general suck! I would like to not believe that, but friends may let you down, family may let you down but me and Scott both agreed that Lady Football, she will never let you down!
Lady Football is not just reliable, she is also very beautiful. If Lady Football was a woman she would have the bust of Katy Perry, she would have a face as beautiful as Megan Fox, her body would be the smoking body of Jennifer Aniston, and finally, she would back that thing up with Rihanna's ass. So now that we all now what Lady Football would look like in human form, it is a thing of beauty. The holiday, in all seriousness, is a time to share with friends and family and a time for giving. Like I said, some people are less fortunate and could use some love or help, and "giving" does not just mean spending money. I know that my time on this earth is short; I have realized that over the past couple years, and that is why whatever cards God deals me, I will stay positive. Bad things will happen to everyone, and great things will also happen. Through friends and family, people can overcome any difficult situation. So Merry Christmas to everyone, enjoy it!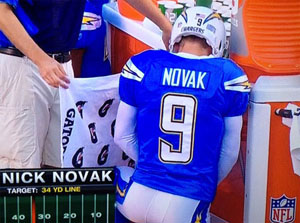 Crazy News and Head Stompers
Having some fun with all the stupid stories that still manage to bring press attention. I'll start with Nick Novak pissing on live TV in the fourth quarter as CBS cameras decided to keep rolling and show the world a football player pissing. It was great when the announcers joked about what kind of range Novak had; I am sure his range pissing is way better than making NFL field goals. Novak had a chance to win the game, but with his misses, he let Tebow do his thing and get another ugly win late in overtime.
A Tampa Bay television station decided to take it to the locker room and do a couple interviews. Now we all know naked boys run around in locker rooms; Penn State reminded the world of that. Well, during an interview on live TV, sure enough, the people of Tampa Bay got a load of man meat. Oh well, it is a locker room.
One of my favorite stories was the bout between 73-year-old Joe Kapp, former QB and coach of the Cal Bears, and 73-year-old Angelo Mosca, a former defensive lineman and former wrestler, over a dispute 48 years ago during the CFL's Grey Cup matchup. Apparently, Mosca delivered a controversial hit on Joe Kapp's roommate and running back that knocked him out of the game. Well, 48 years later during an alumni luncheon, Joe Kapp gave him a right hand to the grill after Mosca hit him with his canes. Who knows? Maybe that is justice served 48 years later. All I know is I love seeing old men knocking each other out. Football was different then, rough and tough, and that generation was tough as steel.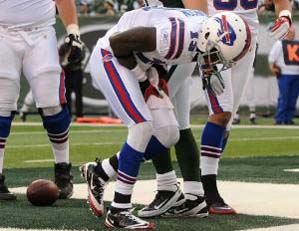 Who doesn't like making fun of a person who takes a loaded gun into a night club and puts a round in their leg? Stevie Johnson does, and I do. Stevie Johnson's touchdown celebration that has the sports world in a riot was hilarious to me. It was one of those celebrations that you know comes with a fine and will cause an uproar, but it is a celebration that is going to be remembered. Just like Terrell Owens with the Dallas star, or Joe Horn with the cell phone, or Chris Johnson with the drums, or Chad Johnson with the river dances. All of these celebrations will be remembered. Stevie mocked Plaxico by doing a little club dance and acting out getting shot, and then he turned into a Jet, and the Jet had a rough landing. Brilliant!
People like Ndamukong Suh kicking players and Albert Head stomping Haynesworth, those are evil players. Stevie is a young exciting player just having fun at another's expense. Though I will say you got to back up your smack talk and dances. Plaxico got the last laugh by catching the game0winning touchdown after Stevie dropped what could have been the game winner for his team.
Titans and Tailgating Baby
There is nothing better than rolling up to a Titans game on Sunday with your friends and throwing down with a great tailgating party prior to the football game. The Titans, as of press time, stand at 6-5 with a great victory over Tampa after getting beat down by Atlanta. It was the Train Daddy, my main man John and the beautiful LeAnn as we rolled in style that Sunday. It may have been a dreary, cold and rainy day, but in our eyes, it was beautiful; it was a great day for fun, friends and football.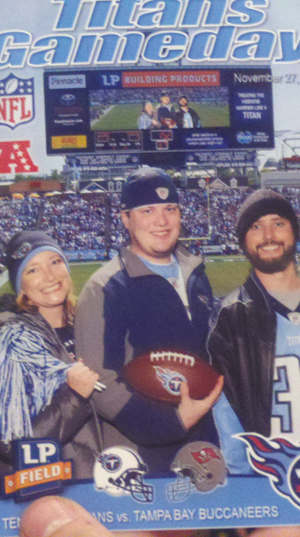 I have thrown some great tailgate parties, but Mr. Jack Daniel sure knows how to throw down. Little pork tenderloin sliders and pork sandwiches with mashed taters and turkey chili and a full bar, it was all you want and the selection was sexy. Jack Black, Gentleman Jack all the way to Single Barrel—you better believe if Jack Daniel is throwing down he is bringing his best whiskey for all of his friends, and he brought plenty of it.
It was a great start to the game, and we weren't disappointed with the game; we got to see two Ball sacks. David Ball was a beast on defense, and Chris Johnson finally is on a roll rushing for a crazy 190 yards. It is great to see the team rolling down the stretch, and there still is a lot to do. The door is open though, with the Texans having a two-game lead and down to their third-string quarterback. That's right, Matt Schaub went down for the year, and Matt Leinhart is out with an injury, so the Texans will start T.J. Yates. Who? The Texans did bring in Jake Delhomme, who is a veteran and played many games, but for now T.J. Yates is their man, a fifth-round pick in the 2011 draft out of North Carolina. He is fresh meat and will struggle, and I foresee Jake the Homie coming in after he struggles. Jake may get something going, but come on, he had some promise early in his career, and then showed he sucked as a starter. The Texans do have an excellent stout defense and one of the strongest running games in the NFL. They also have a healthy Andre Johnson who just needs the ball thrown his direction and he will make a catch. The quarterback position is so important though. Maybe the defense and running game can help propel the Texans to their first playoff appearance, but I believe the quarterback situation will doom them.
This will open the door for my Titans to take the division crown. Just win, baby! Matt Hasselbeck and Johnson will get the Titans there. With players like rookie receiver Damian Williams playing well, Johnson running hard and a defense that is playing hard and full of Ball sacks, the Titans will make the Train Daddy Mafia happy; I have faith in my team.
Fantasy Mafia Football
Let's get to some Fantasy Football—it is playoff time and The Train Daddy Mafia 12-team league is ready to roll into the playoffs. Let me shout out to the mafia in order of the standings as of week 12: Sir Thomas, Mr. Shankle, Lady Allund, Sir Castle, John Poop Daddy, D-Feva Ward, Captain Mayo, The Train, Balls Batson, The Slobber Knock, Young Jeezy and Sir Darren. The top 8 make the playoffs and the grand prize is $400, followed by nice second- and third-place cash prizes. The Train Daddy is third in total points scored and in eighth place, but I am in the playoffs that start week 14 of the NFL. It's okay, that's part of fantasy; you lose some tough matches. I do know that the No. 1 seed team wants nothing to do with this No. 8 seed that has scored so much. It's okay, it's all in good fun, and this is the third year of the Mafia, the best group of people and best run fantasy football league in the world led by Commissioner Train Daddy. I do know that I am in one other league, the Slobber Knocker League, where the cash prize is a little higher, and I am currently locked for the playoffs and standing in 3rd place in a 10-man league. I am coming for that grand prize, Slobber. You're my boy, but you don't stand a chance against the knowledge and talent of the Train Daddy!
Some people want to hate on fantasy football. You don't have a clue what you are missing out on, and it is one of the greatest things in the world. It is fun, exciting, a way to learn about every player in the game. It is also a bragging right that stays with a champion for a year, all they way to the next live draft, where you prepare to keep your crown. If you have never played, you got to sign up next year. Sorry, no room in the Mafia. The Mafia is probably out of your level anyway. The 12 people in this league are the real deal baby!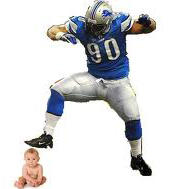 The Wrap Up, Rolling Out the Station
So, what is wrong with the Tennessee Vols? Is it Derek Dooley or the players? I have no answer; I do know that it's embarrassing. Where there is a problem, there is always someone to blame, and they don't even look like a team that deserves to play in the SEC. I have heard many times every SEC game is a challenge. Well, no one (other than Vandy) had a challenge when they matched up with UT this year. I do not doubt Dooley's passion or fire, and you can just see it when he is on the sideline. He is scary as hell when mad and very passionate when things go right. The players love him, but things better change up in Rocky Top. How do you compare a head stomp? An Albert head stomp will get you five games. Granted, the guy needed 30 stitches. A Suh kick gets you two games and known as the most hated, feared, dirtiest player in the league. I thought Suh got off lightly with a two-game suspension, especially with his given dirty reputation already in his young career.
That is all I have for my loyal code blue bleeding Titan fans, so to all my loyal readers, thank you! I honestly believe that this division title for the Titans is completely up to the Titans, and it can and will be done. The Texans will falter, and it will be sad if you are a Texan fan. They deserved it and played well this season, only to lose it because of the QB situation down the stretch of the season. But I have no sympathy for the Texans or the winless Colts or the small market Jaguars who have no owner and lack of fans. Here in Tennessee, the AFC South looks to be ours; all three of the other teams have bad relationships up and down (players, fans, owners) and it's like a rocky relationship that is going to end in a sad breakup. The Titans, though, the Titans have no relationship problems. You see, a Titan will take baby girl out on a date and rock her world. So, Titans fans, get ready to cheer and rock out because we will own this division and hopefully ride on to the promise land. Finally, as I always say, if you see a hater do the Albert Head stomp on that fool's head.