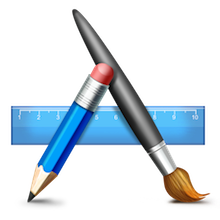 I am asked all the time, "Patrick, what software do you run on YOUR Macs?" So this month I'm gonna tell you! I'll run down my favorite utilities, maintenance apps, productivity apps, imaging apps and anything else I can't live without. So here we go:
Dropbox—Dropbox is for the person who needs access to certain files on some or all of their computers and mobile devices. Dropbox runs on Mac, Windows and Linux and there is a Dropbox app for iPad, iPhone and the Droid platform. It's free for 2GB of storage, you install it and it creates a folder named "Dropbox" (clever, huh?). Put into that folder any files and folders that you would like to have available on all your other computers or mobile devices, and that's it. Any time you change a file or add/delete anything, the changes are synced to all your other Dropbox computers and mobile devices. dropbox.com
Cloud—Cloud is a free little app for quickly sharing files with others. I use it to share images or mp3's with friends when I just want to do it fast and hassle free. You simply install Cloud and it adds a little cloud icon to your Mac's menu bar. When you want to share a file, you simply drag it to the cloud icon and release it. Cloud uploads the file to their servers in seconds, you hear a chime when it's done, and Cloud even automatically places the website address to the file in your Mac's clipboard. All you do is paste it into an IM, email, etc., and send it to your friend. The friend clicks on the link and voila, they're seeing your image file, listening to your mp3, or downloading your file. getcloudapp.com
SMC Fan Control—All Macs with internal cooling fans have them set by default to a fairly slow speed. Apple did that in order to keep you from hearing the fan noise. However, some Macs can, in my opinion, run a tad too hot for my liking. And in electronics, the cooler you can make a device run, the longer it should last. To that end, someone wrote SMC Fan Control to allow us to speed up our Mac's fans, should we want to. So you install this app, it throws an icon into your menu bar, click it, choose Preferences, and you will see a control panel with sliders for each fan. You can then adjust the speed as high as you want to, although I usually only bump mine 400-800 RPM faster than Apple's preset minimum speed. eidac.de
Cocktail—Cocktail is, to me, the equivalent to changing the oil, topping off fluids, checking air pressure in the tires and changing air and fuel filters on my truck. It performs a myriad of disk and system maintenance and cleanup chores on your Mac, and it keeps all of my Macs running smooth as the proverbial baby's bottom. It's free to try and there are instructions on The Boro Mac Shop's video page that show you how to set it up (it's easy). maintain.se/cocktail, boromac.com/videos/cocktail.html
Perian—I install Perian on every Mac I setup, period. It installs all the most popular codecs (compression/decompression code) that QuickTime needs to play most videos you're likely to download. It's free. perian.org
Flip4Mac—I also install Flip4Mac on most every Mac I setup, both for myself and my clients. It's free software that enables your Mac to play most Windows video files it encounters online. bit.ly/pmhlik
Vuze—I torrent a LOT. I download all my favorite TV shows and watch them on my own schedule (I'm a control freak that way). Vuze isn't the simplest torrent app for the Mac—that distinction goes to Transmission—but Vuze gives me all the extra control I crave because it has about a million preferences. vuze.com, transmissionbt.com
Adium—Adium lets you sign on to all your different Instant Messenger accounts with just one application. I use Adium for my Yahoo, GoogleTalk, AIM, Facebook and .Mac IM accounts. adium.im
Pages—Apple's answer to Microsoft Word is Pages, and I love it because it's both a word processor AND a page layout application. No more fussing with margins or trying to get words, sentences or paragraphs to stay where you want them. Launch Pages, choose page layout mode and drag images and text boxes anywhere you want them, and they stay put. It's one of the most simple, yet powerful, document application I've ever used. apple.com/iwork/pages
VLC—VLC will play any video file you can throw at it. It's a good, free video player to keep around for those times when QuickTime Player just won't play a file. It also lets you increase the volume a lot higher than QuickTime will, which is great for those videos you find occasionally that suffer from low audio. videolan.org/vlc
And there you have it, friends, the Mac apps I use almost daily, and with most of them free, you simply cannot beat the price!