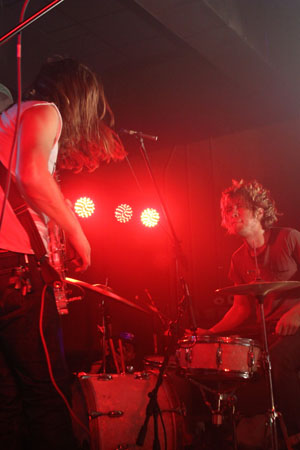 Nashville's own brother-ful basement psych-grunge heroes, JEFF the Brotherhood, stopped by Walnut House Friday, Nov. 4, in the middle of their ascent into international notoriety for an intimate Q&A about the history and inner workings of their now decade-old record label, Infinity Cat Recordings. They followed the discussion with a just-as-intimate set played in front of a comfortably-sized Friday night audience all thanks to the Youth Empowerment through the Arts and Humanities (YEAH!), as well as help from the TN Arts Commission; MTSU's recording industry fraternity, Omega Delta Psi, and Audio Engineering Society chapter.
Moderated by YEAH founder Kelley Anderson of Those Darlins fame, the Q&A kicked off discussing Infinity Cat's 10 year history promoting Nashville's underground scene with brothers Jake and Jamin, along with a manager Holland Nix and Ellis Orrall from Infinity Cat, all sharing the mic.
Ranked in Billboard Magazine's top 10 American indie labels this year, the family-run Infinity Cat has produced a fruitful business model the last decade mainly working with a tight knit roster full of supportive local bands thoroughly assessed based on their live shows as well as maintaining creative and expansive marketing, financing, and distribution, as they're pressing their own vinyl in house. Three things Anderson stressed are key if small labels have a fighting chance competing with major ones these days while the Infinity Cat representatives shook their heads in agreement, having almost 70 releases out to date and counting. Strange enough, the artwork was the biggest hassle out of the whole process, admitted Jake Orrall to which the audience responded to in silence, as they did most statements, but in their defense, the camera crew recording the junket for a YEAH documentary could have spooked the gathering of mostly visiting MTSU RIM majors.
Once the chairs and camera crew were shuffled out of the way, Murfreesboro hard alt. rock trio, Seafood Hotline, took stage for a crash-heavy raucous as people gathering outside wandered in a few at a time to see it was just three guys creating a sound that would be perfect coming out of Seattle 15 or 20 years ago. In the Middle Tennessee area, though, the trio has been playing live for the past year, ever since their album A Message From . . .hit shelves in October 2010.
After Seafood's set, another of Murfreesboro's up and coming, half guy/half girl quartet Mom and Dad rocked some fuzz-heavy and screeching pop thrash, mesmerizing the now fully grown crowd barely filling up Walnut's top room. The four of them banged through the second short set while the crowd began moshing in the middle of the room and the fog machines warmed up behind them creating the preferred atmosphere for the brothers of the night, who followed shortly after Mom and Dad went to bed.
When asked how the rollercoaster ride to stardom has affected them since landing an incredible opportunity playing "Diamond Way" on Late Night with Jimmy Fallon a couple months ago, Jake Orrall simply responded, "I'm in the zone," ranking as the best answer to that question so far.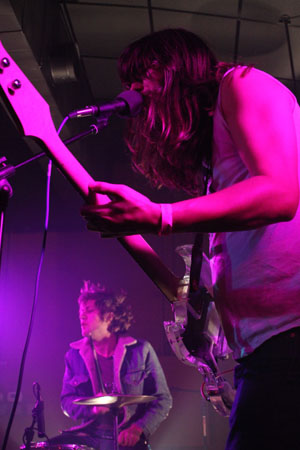 Jake and Jamin slowly took the warmed stage a few minutes later as the crowd acted too cool for it one second until Jekyl-ing into madness, moshing and crowd surfing the next, once JEFF started out with throwbacks to their first release from 2009, Heavy Days, and several of the songs from their newest, We are the Champions, before treating the crowd to some new material set for recording this upcoming January once back from touring.
As the fog rose around the blue stage lights, fresh material poured out as the guys shred and pounded along, not once looking up from their stringed and skinned tools. One could only think of how nice it was to be a part of something so fresh until one caught a knee to the head of someone passing over, snapping one back to the realization they're at a JEFF the Brotherhood show. This place was not a time for introspection, but in hind-sight, it was a hell of an evening.
After feinting the end of the set, the audience yelled at the guys for an encore until they sweetly obliged with "Cancer Killer" from their long-ago second record, Byzantine Empire, before releasing everyone back into the night with a blue foggy guitar fuzzed sort of mind set and a thorough sense of satisfaction.
JEFF the Brotherhood just got back from touring with The Kills through the likes of England, Denmark and Sweden, and is now on their way back to Tennessee to record the new material but not before playing a few December dates set in Hawaii. So, if you're out that way . . .
Infinity Cat releases can be found at www.infinitycat.com, in whatever format you please. Several new releases have shown up there this month including fresh ones from Diarrhea Planet, Denny & The Jets, and, most recently, Uncle Bad Touch.
YEAH! is working magic, too, at the end of the year with special holiday regristration deals for the upcoming 2012 summer camps just in case you have a young one needing an outlet for some pent-up creativity, be it through music, writing, or making good friends. More information on the non-profit's activities can be found at yeahintheboro.org.