Dimly lit with an open, centrally located lobby amidst multiple dining areas colored with subdued oranges and blues and a barroom with a fully stocked bar that is delightful on the eyes, Blue Agave serves as a welcoming atmosphere for families, daters and friends looking to relax and bond over delicious food and assorted beverages.
This is not a run-of-the-mill Mexican restaurant, but rather a place that takes small steps that add up to a huge impact on the overall experience. "This city is ready for good Mexican, not just rice and beans and Speedy Gonzalez [combination plate]," says co-owner Armando Lopez. "We have the potential to do that." Lopez and his business partner Jesus Ortega opened Blue Agave in June 2011, located at 1935 S. Church St., in the building that formerly housed The Parthenon restaurant.
A great thing about Mexican restaurants is that free chips and salsa are served almost immediately, so if you're extremely hungry you don't have to wait long to get something in your stomach. Blue Agave personalizes the experience with individual bottles of salsa and a small bowl for each person to pour their own. This means you can double dip without the concern of being rude to others.
I highly recommend the cheese dip in addition to the salsa. It is significantly more flavorful than any other cheese dip I've tried, and I found out the restaurant incorporates white American, queso fresco and Chihuaha cheeses. Dip on with a sizable order of guacamole made fresh tableside. Customize your guac with assorted flavor boosters of diced onions, jalapeños, tomatoes, chopped cilantro, salt and pepper and fresh lime juice. It's fun to watch, tasty and good for you.
For my night out with the Mayo family, I went with my favorite dish of Chili Verde, a plate full of pork bites simmered in a savory green chili pepper sauce served with soft white corn tortillas and beans and rice on the side. For those who like a kick, I recommend ordering a side of tomatillo salsa. I like to pour some in a Chili Verde-filled tortilla and it also makes for another superb dip for your chips.
Sarah ordered a taco salad complete with a large crunchy tortilla bowl filled to the top with ground beef, diced tomatoes, lettuce and other toppers. Bracken received a colorful plate of sliced grilled chicken, mushrooms, pineapple chunks, bell peppers and onions. This dish, the Pollo Queso Agave came complete with tortillas, a salad of pico de gallo and guacamole, and a side of rice and beans. And two-and-a-half-year-old Bracken Jr. annihilated his plate of rice and beans like a champion.
After filling our bellies with these incredible meals, Sarah and Junior called it a night, but Bracken and myself hung out and saved room for dessert. No, not the Tres Leches, which I hear is nothing less than amazing, but rather, some tequila tasting with Lopez. He sat down with us and filled our minds with his knowledge and passion for tequila.
"I want to teach people about tequila," said Lopez. "It's not just to drink and get drunk. To me it's like wine."
He informed us that the state of Tennessee allows 185 different tequilas, 120 of which are from Mexico, and Blue Agave is the first restaurant in Middle Tennessee to carry them all. Tequila is very much incorporated into the restaurant by way of the bar and also the food. It is used in sauces and marinades and also as a fuel to ignite the fajitas as they arrive at your table; Blue Agave is apparently the only restaurant in the city to serve flaming fajitas.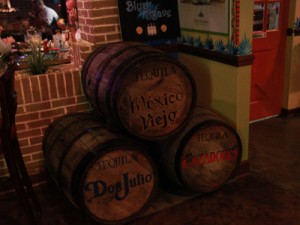 In fact, the name Blue Agave references the plant from which true tequila is derived. Guadalajara, in the Mexican state of Jalisco, is the only region in the world where the blue agave plant grows. Lopez affirmed, "If it's not from the blue agave plant, it's not good tequila." According to Lopez, it takes the blue agave seven to ten years to fully mature and if you'd like to get a look at the plant, there are several hanging in the restaurant.
Tequila prices at Blue Agave range from $4.50 up to $150 per shot and the restaurant often runs specials on quality tequilas, so patrons can get a taste at a lower cost. Lopez shared one of his favorites, Don Julio 1942. Aged 17 years, this tequila costs $30 per shot and we followed his method for drinking it, sip-by-sip with a chaser of sangria. Lopez informed us that the bottled sangria, which "has to be from Spain," kills any sourness and accents the agave flavor. As an alternative, he recommended orange juice to bring out the tequila flavor. Note that lime and salt are not mentioned in his method.
Lopez continued as we sipped along, "Look for a cork on the bottle. If there's no cork, it's not good tequila." He took another sip, "I like to play with it in my mouth a little before I swallow. If it numbs your lips and gums, there's too much alcohol. 1942 is a perfect blend."
A little history lesson on Don Julio is that its founder, Don Julio González-Frausto Estrada, is from Guadalajara and was born blind. He began distilling tequila in 1942 at the age of 17 and has proven to be quite talented in using his other senses to determine if an agave plant is right for tequila. On Feb. 2 from 7-8:30 p.m., Blue Agave will host a tasting celebration for Don Julio tequila's 70-year anniversary, complete with Don Julio Blanco (white), Añejo (aged), Reposado (rested), 1942, Don Julio Real (top shelf), and will end the night with the special edition Don Julio 70-year Anniversary tequila. This event is open to the public but a reservation is required and cost for the complete tasting is a flat $25. Generally, Blue Agave hosts a tequila tasting evening every other month for connoisseurs and those looking to take in a new and different experience.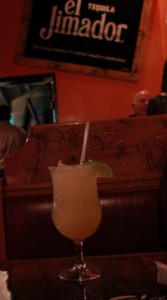 Upon finishing our Don Julio 1942, Lopez began a conversation about authentic Margaritas. According to him, a true Margarita consists of the following ratio: one ounce of tequila blanco, one ounce of lime juice and one half ounce of agave nectar (concentrated juice from the core of the agave plant). Lopez explained that blanco is the way to go for Margaritas because it's more neutral than other tequila types and doesn't mask the other flavors involved. No sugar or mix is added; the agave nectar provides the sweetness and this makes for a much better tomorrow morning. The restaurant does serve margaritas with mix and at a lesser price, but the bartender will be happy to make it authentic-style upon request.
Between the bar, kitchen and the surrounding decorative walls, Blue Agave offers an affordable and delectable experience complete with a warm and festive ambiance. For the menu, Lopez intends to introduce more authentic dishes little by little as time continues and a regular draw to the restaurant is a two-for-one margarita special and evening trivia every Wednesday. Keep up with Blue Agave events and specials by liking it on Facebook and visiting blueagavetn.com.