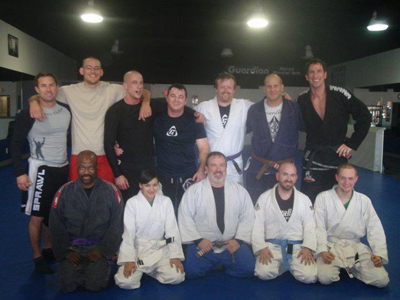 Mixed Martial Arts, one of the nation's fastest growing sports, is a full-contact sport that combines elements from the most effective martial arts. Although the sport was outlawed in the state of Tennessee until just a few years ago, Guardian MMA is a premier academy that has built a strong tradition in Murfreesboro over the past ten years. Whether you are looking to compete, learn how to defend yourself or just have a great workout, Guardian Mixed Martial Arts has the experience to help you reach your goals.
Guardian is in its new location in the Hastings shopping center off of Memorial Boulevard, offering classes in Muay Thai Kickboxing, Brazilian Jiu-Jitsu, Boxing and Wrestling as well as classes specially tailored for kids. Guardian is an academy that teaches martial arts in a rich family environment. Unlike most MMA gyms, the staff at Guardian understands that not everyone wants to be a fighter. Instead, the focus is on the individual and what you can personally walk away with by studying the arts. The academy offers a free tour of their facilities, which include a full gym, for anyone interested in a membership.
In 2001, Guardian was founded by Doug Frazier due to the fact many schools focused more on tradition instead of the principle purpose all martial arts were founded on, which is the martial aspect. The name "Guardian" was chosen since they were to be preserving the martial arts. Being a black belt in Brazilian Jiu-Jitsu, a rare accomplishment that takes on average ten years to achieve, as well as a black belt in Tae Kwon Do, Coach Frazier is a well-respected representative for not only Jiu-Jitsu, but for martial arts in general. He chose Jiu-Jitsu because he felt it was a simplistic form of self-defense, a place where everyone should begin. Brazilian Jiu-Jitsu is technical martial arts form that emphasizes leverage and timing to control your opponent and focuses on the reality of self-defense. The programs at Guardian give its students a well-rounded tool set for self-defense no matter where they find themselves.
For the Kids: Randy Walls, commonly called Coach Palito, is the Guardian Kids' Program Director. Holding black belts in Tang Soo Do, Tae Kwon Do and Muay Thai, and what he says his is proudest accomplishment, a Purple Belt in Gracie Jiu-Jitsu, Coach Palito has been a student of the martial arts from a young age. The kids' program offers a variety of classes tailored just for kids. The kids begin as young three years old in the Little Ninja class, where they play Jiu-Jitsu, become comfortable with the movement and have some fun! For ages 8 to 13, there is the Level One Jiu-Jitsu class, where kids are taught Jiu-Jitsu specifically designed for the bully encounter. After graduating this first class, Guardian has a more comprehensive class designed for competition and advanced children.
Guardian's Kids' Program offers a bully-proofing system that helps children build confidence in themselves, discipline for the classroom and integrity for life.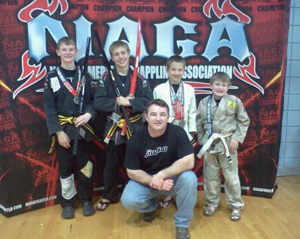 "Bullying is a real problem in schools, verbal as well as physical." Witnessing a girl getting beaten while he was a student in high school lead Coach Palito to become a martial arts instructor.
For Adults: Quentin Clemmons, better known as 'Q', is Guardian's Muay Thai instructor. Muay Thai is a devastating martial arts style that teaches you to use your whole body as a weapon. Every blow is thrown with the hardest part of the body—namely shins and elbows. However, in Q's class you get more than just Muay Thai, since he studies other styles and borrows techniques from everywhere. Q disagrees that "practice makes perfect," and instead likes to say "practice makes improvement, that way you will always strive to be perfect." The average Muay Thai class takes about an hour. Beginning with a warm-up, a few techniques are then taught and finally a conditioning circuit to close out the session.
For those who are interested in Jiu-Jitsu, or self defense, the first thing you will learn is Guardian's Gracie Jiu-Jitsu curriculum. This class has been designed to take a person to street readiness in the shortest time possible. In Brazilian Jiu-Jitsu, there are over 600 techniques, but at Guardian, only the 36 most effective techniques are taught in a systematic approach that does not require an individual to be strong, athletic or even young. Everyone can benefit from learning Gracie Jiu-Jitsu, including women. A women-only class is actually in the works.
In addition to Jiu-Jitsu and Muay Thai, there are boxing classes led by USA Boxing Coach Brian Ogletree. Wrestling and Judo are added into the curriculum to give competitors an edge on the mats.

For Everyone: Guardian Mixed Martial Arts is a gym for everyone regardless of whether your ambition is to learn self-defense, be in better shape or compete. Private training sessions are always available for those seeking to get ahead or find themselves behind. From time to time, there are seminars offered with famous mixed martial artists such as Israel Gomez (UFC Middle Weight Champion Anderson Silva's Coach). The gym is recognized as American Top Team member under Jiu-Jitsu Black Belt, Professor Renato Tavares, and has even produced UFC fighters such as Shane Primm.
Guardian Mixed Martial Arts Class Schedule:
Kids (3-7 years of age): Tuesday/Thursday, 4:30–5 p.m.
Kids' Jiu-Jitsu (8-13 years of age): Monday/Wednesday 5–5:45 p.m.
Kids' Muay Thai (8-13 years of age): Tuesday/Thursday 5–5:45 p.m.
Brazillian Jiu-Jitsu: Monday–Friday 10–11 a.m.; Monday, Tuesday, Thursday 6–7 p.m.
No Gi Jiu-Jitsu: Wednesday 7:10–8:10 p.m.
Advanced Jiu-Jitsu: Tuesday, Thursday 7:10–8:10 p.m.
Takedowns: Wednesday 6–7 p.m.
Boxing: Tuesday, Thursday 6–7 p.m.
Muay Thai: Monday, Wednesday 9–10 a.m.; Monday, Wednesday: 6–7 a.m.
Open Mat for All Disciplines on Saturday 12–2 p.m.