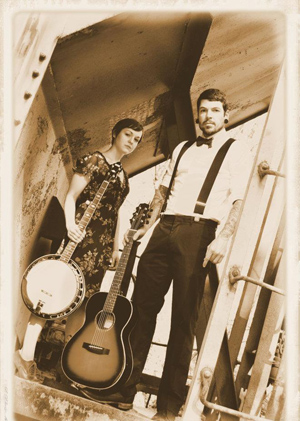 A dimly-lit Murfreesboro venue with the sweet smells of cigars bellowing from a swinging front door isn't the worst place to find yourself on a cloudless spring evening rearing its head in late January, the way Liquid Smoke provided on the 26th.  The back of the bar was set up with a line of standing stringed instruments ranging from an acoustic guitar to a baritone ukulele, a mandolin to a resonator banjo, and a much less stringed cup of kazoos hanging from a mic-stand as groomed, tattooed and smiling Tony White entered the room in a crisp white button-down, with black suspenders clamped to black slacks and a bowtie around his neck, while holding the door for a beautiful slip of a woman, Grace Shultz, dressed in dark purple with a home-made beret that could be sold for pretty pennies in some of the Murfreesboro Square shops. Both were dressed to kill and ready to perform 11 originals out of a 12-song set for the patrons before local band, The Radio Symphonic.
Grace and Tony hail from Lawrence County, Tenn., about an hour and a half's drive south from here, but they never think twice about making the short trek, as they have since they met, when the opportunity rises to promote their newfangled Inside a 7 Track Mind, released out of Nashville's Villain Place, run by producers Steven Jones and manager Lloyd Norman.
Musically, The Avett Brothers would come to mind if Scott Avett shaved and raised a few octaves while the duo belted out harmoniously dark verses twixt the two eclipsed by a She and Him /Jade and Alexander stage presence showing the two falling in love right in front of your eyes every single time there's an appearance here in town. The eye contact and quick-glanced smirks show a shared dedication to their craft as well as to one another, going all but unnoticeable. It's almost unsettling to the weak at heart, but in the most wholesome unsettling way imaginable, and it was nice sitting down with them.
If you two would oblige telling how you met . . .
Grace: He tells it better . . .
Tony: I'd seen her play a few years back, so me and a buddy had invited her over. We had written some songs that we thought were great so we played our song […], thought it was amazing and when we got through, she was like "aww, that's cool. I'll play my song." [Tony's buddy and I] were like, [mouth agape, amazed facial expression], and completely embarrassed […] thinking about how much better than us she was. I thought, "Dude, we suck."
It was years later looking through my Facebook friends, and I saw we were friends somehow […] and I was like, Man, that girl is so hot, so awesome and this and that. I was playing in another school band. It'd been a punk band that had just broken up, and there were a couple of us left playing acoustic in a bedroom. It kind of started sounding bluegrassy, and then I asked her if she would be interested in opening some shows for us [but] when I found out the instruments she was playing was a banjo and mandolin, I asked her if she wanted to play with us. Plus I was interested in her, so . . .
So, you two started . . .
Tony: Yeah, we got together November of 2010.
Grace: I had a sheet of chords laying on the bed we were practicing on, and he would tell me the chords I had to play and I'd be looking at them, trying to figure out what they were. He gave me sheets of what chords I needed to play [with] number signs, and I was like, "What? I don't know how to play an E minor sharp."
Tony: That book that said, what, Earl Scruggs? Learn How to Play? [laughs] She can do that, though. She knows her way around stringed instruments. And I didn't know what [the chords] were already. I'd always play in a drop-D tuning. It was all power chords and just ripping, you know. It's punk. I never had a reason to learn, until […] we started playing and getting into the punkgrass. We were taking these punk songs and playing on these bluegrass instuments and putting them in bluegrass arrangements. After these first batch of songs, which were all punk, it kind of became its own thing and we were calling it punkgrass. It already formed, and we started writing these new songs with that in mind, and it took a life of its own. She doesn't play [the banjo] the way a banjo player plays it. She plays it the way she wants to play it. She plays it like a guitar. Her grandpa played guitar, and her dad is really proud she wants to play. He's one of our biggest fans.
How did you get from there into Murfreesboro?
Tony: We started busking in downtown [Nashville]. This guy came to hear us play downtown and was really interested and said, "I don't have a dollar to give you," but we were like, "well, we'll play you a song anyway', so we played "911 Away" for him, and he said, "Love it. My name is Crow, and I'm the host of Balcony TV. I was texting my producer halfway through the song," and we thought he'd lost interest […] because he was texting, But he put us on [Balcony TV] […] around June of 2011.
Grace:  Yeah, sometime in the summer. I remember I had to sit down because it was windy, and I was afraid my dress was going to come up. [laughs].
Tony: We did that and we did 11 O'clock Rock, a television show in Knoxville, the same week, and we were really not ready for that. [laughs] I mean, it went okay. We went in this one room; they filmed the whole show. There was one part they were filming the two hosts, because they have a camera doing their part and then they'd cut away to us playing across the room, and in between shots, I didn't realize we were supposed to have all our instruments tuned. The first song is a mandolin song and the second one was a banjo song, but we can't talk because we're in the same room. We can't make any noise. So, I said,"You should pick up your banjo just in case they point to us." Then they pointed at us and we were like, [Tony's deer-in-the-headlights facial expression], and it really came through in the video. Sounded terrible, looked terrible, and it went on through the whole show. I didn't even have my ukulele in the same room, so it got time to play the "Parting Gift" song that had the kazoo in it, and I had to run in another room and get my ukulele and run back out when she was counting down. I didn't have my kazoo with me. I started scatting and looked at her to apologize [the two laugh].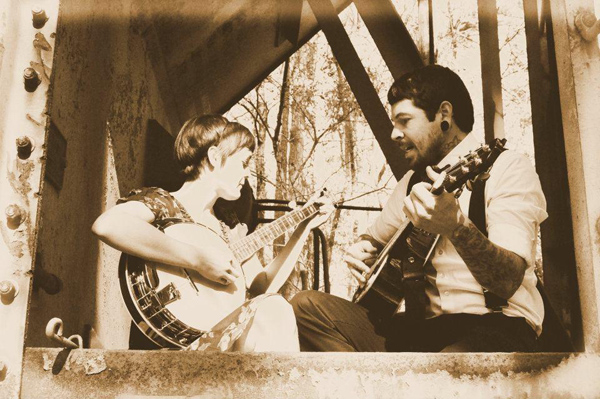 And you both write the music?
Grace: He writes the music and then I'll bring in my banjo part after. We co-write the words.
Tony: She's a good writer.
Grace: Thank you, babe.
Tony: I'll write a scene until she writes the story to it to come full circle. Even if it's not a ballad, she still writes that way.
What about your style on stage?
Grace: We are in love. It's the best relationship ever.
Tony: She's my best buddy. When we first started playing we were thinking we need to interact more or look at each other more but when we started feeling comfortable playing the songs we figured out we were going through the same thing and thinking the same thing and it all started naturally.
Grace: I wish we'd been born in the 1940s.
Tony: This music would have been hardcore then. It's kind of throw back, and think it's more classic, but I just like to think it's more timeless. I don't want to look back and think that was a cool little fad. I want it to be something that [stands] the test of time, and that's why people are still making that music.
Classic-wise, you guys covered "I'll Fly Away" as the show ender. Good choice.
Tony: It's a really good song. I was watching Gillian Welch and David Rawlings on Austin City Limits. They played a really slow traditional version of it, and I was like, you know, I should be tired of this song, but everyone was out of their seats clapping. [The audience] loves those songs. I think we'll record it. It's like a community song. We just want to be a band like NOFX [laughs] that's constantly releasing music. They always had something.
We hope you're steady too . . .
Tony: It's been a roller coaster ride. We appreciate that. We just want to find our place.
Grace: I just want to finish nursing school, and then if it wants to blow up, then . . .
Tony: [smiling to Grace] Grace and Tony is what we do after her studying is done; when she's done with that than we'll see what happens. We just want to give it a chance to go where it will go, playing hard enough and writing hard enough to give it a chance to be better musicians. That's what we're focusing on.
The duo's set was filmed to be a part of an up-and-coming music video filmed and produced by Nashville's Only Child Productions, which captured everything from the Jan. 26 performance including the two throwing headbands and spitting kazoos offstage when seriousness was in order. Their next show is scheduled at the Elk's Lodge, Feb. 25, and a show at Crockett State Park to follow April 21—both in Lawrenceburg. Show updates and band information can be found on their Facebook and Reverbnation fanpages, as their schedule is slightly spontaneous, while their album, Inside a 7 Track Mind, is available to buy through Amazon, CDbaby or at a show when you get a chance to catch them.