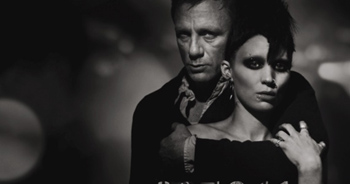 Okay, so . . . we have here exactly what anyone following David Fincher's career since Se7en and Fight Club should expect: a dark, violent, sexy, beautiful thriller that lasts upward of three hours. The Girl With The Dragon Tattoo may be some difficult, previously tackled material from author Stieg Larsson, but Fincher shines with these dense scripts, unafraid of delving into nuances and challenging material for the audience.
Dragon Tattoo is a revenge plot wrapped in a murder mystery wrapped in a detective/murder mastermind type plot. Fincher facilitates the novel's complexity deftly, but one drawback is that many important details appear in small text on a computer screen. Mikael Blomkvist (Daniel Craig), a talented journalist who has found himself in hot water because of a scathing piece he wrote, escapes to the family island of a wealthy German patriarch, Henrik Vanger (Christopher Plummer). Blomkvist has been commissioned to write Henrik's biography, but he is really investigating a 40-year-old murder of one of the family's children.
Blomkvist soon learns that the family on the island is both extremely dysfunctional and hostile to outsiders. As his investigation thickens, he steps on more toes until they finally beg him to return to his home. But he has come too far to turn back, and Henrik Vanger has promised him some material which will bring down his rival.
Meanwhile, Fincher also follows the true hero, Lisbeth Salander (Rooney Mara), a tattooed free-lance investigator, frighteningly thorough, who plays by no one's rules but her own. When she is raped by her adviser in child services, she responds by blackmailing him, tattooing "I AM A RAPIST PIG" on his stomach and forcing him to fund her high-tech surveillance.
Ultimately, the two, Blomkvist and Lisbeth, pair up to solve the mystery. They are the best in the business. Blomkvist needs Lisbeth's resourcefulness and uninhibited dedication, but she likewise needs his grounded, thorough research to crack the case. When they split up to gather historical documents, Blomkvist is abducted by the murderer they are closing in on.
What ensues is a brilliant film by Fincher, one which showcases some great acting and incredible on-location scenery from Uppsala and Stockholm in Sweden, and some shots from Norway. Enjoy!