Some of the Pulse's favorite kettle concoctions, flavorful creations for the Super Bowl, or any chilly winter's day.
Chicken Rice soup
Tastes just like Demos'. Well, almost.
Ingredients:
1 tablespoon butter (or margarine)
1/8 cup all-purpose flour
2 (14 1/2 ounce) cans chicken broth (reduced sodium or fat free is fine)
2 cups cooked chicken , shredded
1/2 teaspoon salt , to taste
1/2 teaspoon pepper, to taste
1/8 teaspoon garlic powder
½ (1 1/4 ounce) packet Italian salad dressing mix
1 cup milk (2% and skim work fine)
2 tablespoons lemon juice
1 tablespoon white wine
fresh parsley (1 small bunch, coarsely chopped) (optional)
2 cups long-grain rice , cooked
Directions:
In a large pot, melt the butter or margarine.
After the butter is melted, mix the flour in until smooth.
Slowly pour in chicken broth, whisking or stirring continuously until no lumps remain.
Add the shredded cooked chicken, salt, pepper, garlic powder and Italian salad dressing mix; bring to a boil.
Reduce heat, and simmer for 12 minutes.
Add the milk, lemon juice, white wine and parsley, if desired.
Reduce heat to low, add the cooked rice and cover.
Cook until rice is heated through.
Recipe courtesy food.com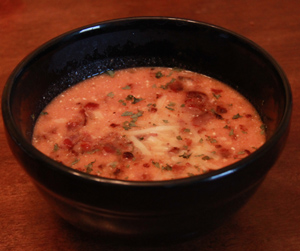 Mexican Corn Soup
Tastes just like the soup your Mexican grandmother used to make.
Ingredients:
4 ears fresh or 3 cups frozen, thawed corn kernels
2 medium tomatoes, roughly chopped
2-4 cups chicken broth
½ teaspoon dried oregano
4 slices thick cut bacon
½ onion, chopped (about 1 cup)
2 cloves garlic, finely chopped
Salt and pepper
½ cup heavy cream, optional
3 tablespoons chopped fresh flat-leaf parsley
½ cup queso fresco, fresh farmer's cheese, feta cheese, pepperjack cheese or sour cream
Tortilla chips or fried tortilla strips
Directions:
If using fresh corn, scrape kernels from cobs using small sharp knife or spoon. Place half of the corn kernels in blender with tomatoes, 2 cups of broth and oregano. Puree until smooth. Set aside.
In a large saucepan over medium heat, cook bacon, turning once until brown and crisp, about 10 minutes. Remove bacon to a paper towel lined plate to drain. Set aside. Add onion to bacon fat in saucepan and cook, stirring frequently until onion is soft and translucent. Add garlic and stir for another minute.
Add tomato-corn puree to saucepan with remaining 1–2 cups of broth or water. Bring to a low boil and add remaining whole corn kernels. Simmer over medium-low heat until thickened, about 20 minutes. Stir occasionally and remove any foam as it develops with a large flat metal spoon. Season with salt and pepper.
Mix in half of the parsley and cream, if desired, and heat through. Serve garnished with crumbled bacon, remaining parsley, crumbled cheese and tortilla chips or strips.
Note: Canned corn is tasty in this recipe too.
Recipe courtesy foodnetwork.com
Potato soup with shrimp
This one-pot meal is hearty and delicious.
Ingredients:
½ stick butter
1 small onion, diced
2 medium carrots, diced about the same size as the onion
2 tablespoons all-purpose flour
8 medium russet potatoes, peeled and cubed
4 cups milk, whole, reduced fat (2 percent) or low fat (1 percent)
2 chicken bouillon cubes, dissolved in ½ cup hot milk
1 teaspoon salt
¼ teaspoon pepper
2 cups salted water
1 pound medium shrimp
Crumbled bacon bits, for garnish
Grated sharp Cheddar, for garnish
Dill sprigs, optional garnish
Directions:
In a 4-quart saucepan, melt the butter and saute the onion and carrots until both are slightly tender, about 5 minutes. Whisk in the flour, and cook for 1 minute. Add the potatoes, milk and dissolved bouillon cubes. Cook over medium heat for 15 minutes, until the potatoes are very soft and some of them have begun to dissolve into mush. Add salt, and pepper.
In a small saucepan, bring 2 cups lightly salted water to a boil. Add the shrimp all at once and stir well. Watch the shrimp closely; as soon as they all turn pink, about 2 to 3 minutes, turn off the heat and drain. The shrimp should be slightly undercooked. When they are cool, peel them, and chop roughly into big chunks. Add the shrimp to the soup and stir well. Serve soup sprinkled with bacon bits and grated cheese. Garnish with dill sprigs, if desired.
Cook's Note: If you don't have access to shrimp, use corn. May use 2 cups chicken stock or broth for flavor instead of 2 cups water and bouillon cubes.
Recipe courtesy foodnetwork.com
Spicy Taco Soup
Ingredients:
1 lb. ground beef
2 cans chili beans -or- 1 can chili beans and one can black beans
1 can corn
1 can Original Rotel
1 can petite diced tomatoes
1 package taco seasoning
1 package ranch seasoning
2 cups water
Directions:
Brown the ground beef in a skillet, remove grease from skillet.
Add the beef and all other ingredients to a large soup pot and bring to a boil. Reduce to medium-low heat and simmer for 1 hour.
Serve with shredded cheddar cheese, sour cream and tortilla chips.
Cook's Note: For soup that's only mildly spicy, drain the liquid from the Rotel before adding it to the soup.