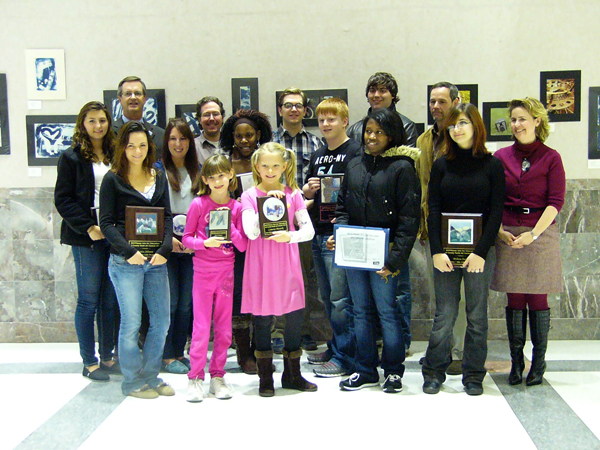 The Business Education Partnership (BEP) Foundation presented awards to kindergarten through 12th-grade students at its third annual Arts for Education All County Youth Arts Contest awards reception on Jan. 20.
Two- and three-dimensional works were awarded plaques by Murfreesboro Mayor Tommy Bragg and Lee Rennick, Executive Director of the BEP. The plaques were designed especially for this contest by VIP Awards in Smyrna using clay sculpture from Lewis and Eric Snyder.
Award winners include:
Grades K-2nd: Elizah Pedigo, 1st Place; Cameron Messerly, 2nd Place; Beth Nelson, 3rd Place; Ryanne Burch, Honorable Mention.
Grades 3rd-5th: Berenice Vazquez, 1st Place; Taylor McGee, 2nd Place; Mya Jae Eubanks, 3rd Place; Brisa Cortez Dorado and Anna Sweeney, Honorable Mention
Grades 6th-8th: Reana Marie Paul, Honorable Mention
Grades 9th-12th, Photography: Jessica Johnson, 1st Place; Kayln Patterson, 2nd Place; Taijana Logsdon, 3rd Place; April Burbridge, Honorable Mention
Grades 9th-12th, Potpourri: Melissa Stark, 1st Place; Shelby Mindar, 2nd Place; Bethany Kinslow, 3rd Place; Caleb Yates; Honorable Mention,
Grades 9th-12th, Sculpture: Madison Mooneyham, 1st Place; Chelsey Dugger, 2nd Place; and Carleica Rogers, 3rd Place.
Best of Show: Spencer Watson
Award-winning art will be sold at Arts for Education: An Elegant Evening, a fundraiser for the Business Education Partnership Foundation, on Feb. 24. The event will be held at the Rutherford County Chamber of Commerce building from 6-9 p.m. The theme of the evening is "Yesterday, Today and Tomorrow" and will include a concert by the Tennessee Valley Winds, a dance presentation by Cat Cru, and additional musical entertainment. Heavy hors d'oeuvres will by created by the Smyrna High School culinary arts program. There will be an auction of art and entertainment packages, including a trip for a family of four to Disney World.
View more of the students' art here
For more information or reservations for the event, contact Gabi Brockelsby at (615) 556-1949. Learn more about the BEP at rutherfordbep.org.