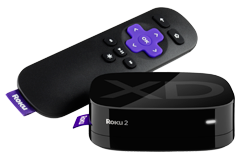 Cable TV sucks. I know it and you know it, so let's just admit it as a fact. In the same way, we can all admit that we hate our cellphone service providers. Cable TV prices are outrageous, and if you're like me you probably get 60 channels or so, and only watch 10 of them. The solution? Cut the cable! Buy a Roku box, (www.roku.com) an AppleTV, a Google TV box or one of the new Smart TVs, and say goodbye to high cable prices forever. Although to be fair you'll be saying hello to one or more smaller fees that could total as much or more than your current cable bill. But let's stay on track here; we're talking about CHOICE. Getting only the channels we want and to hell with everything else, right? Right.
All the boxes and Smart TVs offer similar features but I'm a Roku man. If you're a long-time reader of this column, you've heard me talk about my love for Roku before. But please indulge me so I can explain what it is to others who might not know. A Roku box is a small device, about the size of a stack of 5 DVDs, that connects to your TV and your internet connection and brings the world of online video content directly to your TV. It has a remote control that you use from your favorite chair or sofa and navigate its channels (which you add yourself so you add only the ones you want) and watch most anything you want to, with the exception of live news and sports.
My favorite channels are:
Netflix – For $7.99 per month you can stream anything from the Netflix streaming library. There are some movies that are DVD only, meaning that you can't stream them, but most stuff is there for streaming.
Revision3 – I'm a electronics/computer nerd and I love staying on top of all the new software, apps, gadgets, computers, etc. that come out daily. Revision3 is a great free channel for that type of content. And the women are cute.
Plex – For watching all the stuff I download. I cover the Plex media server, app and Plex Roku channel in depth in this previous Boro Mac blog post. 
Amazon Prime – Call me a fanboy if you want to, but I love Amazon! I started out ordering books and CDs from them 10 years ago, and now I order damn near everything from Amazon. And Amazon Prime makes that easier and even cooler. If you sign up for Amazon Prime for $80 per year you get FREE 2-day shipping on all orders from Amazon.com. (Some items are sold through a 3rd party so the free shipping doesn't apply to those sales. You want to look for the "Prime eligible" tag but don't worry, it's ubiquitous and easy to see.)
But wait, there's more, in addition to free 2-day shipping you also get access to a TON of free streaming video content on the Amazon Video channel. Some current movies, lots of great documentaries, and a slew of TV shows. I just began re-watching all 12 seasons of NYPD Blue. Yes, I'm old school, although if you're older school than me they have Hawaii Five-O. The ORIGINAL one.
And lastly, you get to "borrow" one Kindle book per month, free. As my high school buddy, JR, used to say, Beat that with a stick.
The NBA recently rolled out a Roku channel but it's not quite up to speed yet. Maybe by the time the playoffs come around, sometime in August or September . . . maybe October. Damn the NBA season is long.
Major League Baseball, though, has one of the best channels, for $24.99/month. I hear it's great anyway, I've never been much of a baseball fan.
Hulu Plus has most of the NBC Universal content you could want and much more. It's $7.99/month.
I expect more channels will come along as the popularity of these little boxes and new Smart TVs increases. So buck up, cowboys and cowgirls, the reign of mediocrity that's called cable TV is near an end. At least for you and me it is. Let the suckers pay for Spike, QVC, C-Span and MTV. (I'd pay for MTV if they could remember what the M stood for back in the day. And if there was any good M being made anymore.)
I gotta go now. Sipowicz is breaking balls and squeezing shoes and I don't want to miss a second of it.