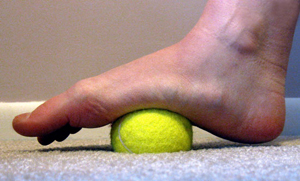 So, all of you Murfreesboro runners are increasing your distance, running more and more miles per week.
Excellent!
But even though you have your perfectly-fitting Asics Gels, those 18-mile weeks are getting to you, eh?
Here's a quick tip: find an old tennis ball, and stand on it. Roll it around a little. Trust me, it's great on the feet.
That one's free, courtesy of a local massage therapist.
The more I run, the more a two-hour marathon amazes me (the world record is under two hours, four minutes). Holy cow! 26 miles at nearly a 13 mph pace?! Insane!
I'm trying to hold 13 mph for 26 seconds.
The next organized, local chance to show off your speed will be the first ever Special Kids race, held Saturday, March 31, at Gateway Island Park.
This event will include a 5k and a 15k, both beginning at 7 a.m., with a 1-mile family fun run following at 8:30.
"Special Kids provides therapeutic rehabilitation and professional nursing services to kids with special needs," according to the race's website. "The funds raised from the race will help the loving staff at Special Kids continue to serve Jesus Christ by caring for his children."
Participants may park at Murfreesboro Medical Clinic, 1272 Garrison Drive. For more information, visit specialkidsrace.org.
Also this month, Sports*Com will host its fourth annual Aerobic Triathlon. On Saturday, March 10, from 9–11:30 a.m., athletes ages 18 and up can challenge their fitness level with 2½ hours of exercise, with 45 minutes each of cardio, weight training and stretching/yoga.
Check it out, and put your body through this complete workout.
Sports*Com is located at 2310 Memorial Blvd. For more information, call Allison Davidson at (615) 895-5040.