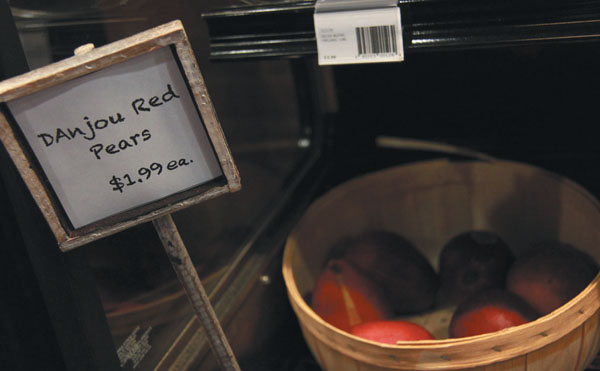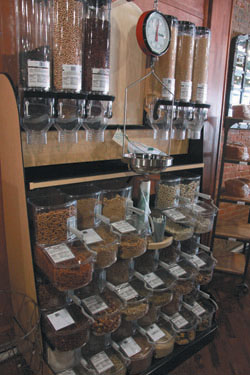 I generally desire to eat healthier, better quality food that's, preferably, locally produced. But it hasn't always been so convenient to obtain in Murfreesboro, especially during those months when the outdoor Main Street Saturday Market isn't operating. And I'm not often interested, nor do I typically have the time, to drive to Franklin or Nashville for natural and/or organic food.
Needless to say, I was excited to learn about Pa Bunk's Natural Food & Café, which opened a few months ago on the southeast corner of the downtown Square (107 S. Church St.). Set up like a country store, the place provides a fine assortment of all-natural and organic fresh fruit and vegetables, dairy products, meats and dry goods. In addition to edibles, the shelves contain various household items.
Owner Corey Williams aims to carry as much local product as he can get his hands on. Some vegetables and herbs come from Rocky Glade Farm in Eagleville; goat cheese is provided by Noble Springs Dairy out of Franklin; Hatcher Family Dairy in College Grove supplies milk; raw honey with comb is brought in by Garrison Honey Farms, which has bee colonies in Marshall, Williamson and Maury counties; and freshly baked bread is delivered daily by Wild Flours right here in Murfreesboro. These are just a few examples, and Williams fully intends to expand his network of local farmers and producers and bring more local product into the store.
"Our slogan is 'from our neighbors, to our neighbors,'" said Williams. "I want to help local people and provide an outlet for their product, as well as bring more awareness to healthy products and make them more conveniently available."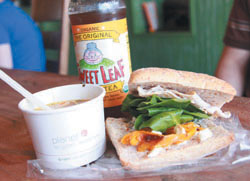 Pa Bunk's also features a selection of ready-to-consume products. The store uses Murfreesboro-roasted Just Love coffee beans for its espresso bar, including cappuccinos and lattes. Soup of the day, salads and gourmet sandwiches are made fresh daily by Health Nut Sandwich Co. and delivered to the store, including a Cha-Cha chicken breast on ciabatta bread with pepper jack cheese and three-green spread; a turkey on ciabatta with feta, roasted red peppers, herbed mayo, and greens, among several other selections. There's a dining area with tables and chairs inside the front of the store, and Williams recently set up additional café seating outside on the sidewalk now that the weather is warmer.
The location was formerly home to The Greenery, which specialized in household items, décor and clothes, with a limited supply of natural food product. Owner Judy Goldie experienced an increasing demand for more food from her customers and, having known Williams and his desire to open an all natural and organic grocery store, contacted him about taking over the space.
"A Grocery store is what the people wanted, so we took it over, added 1,200 new items and bumped it up a few notches," said Williams.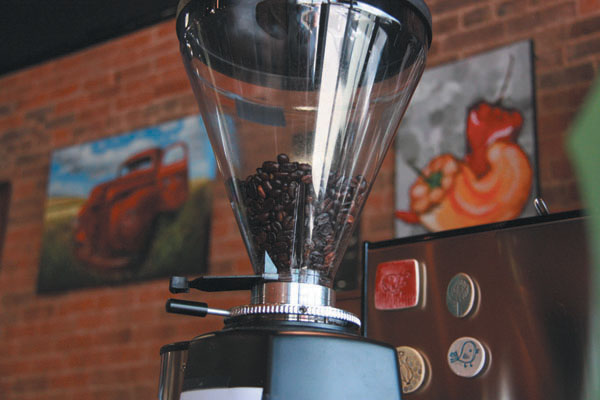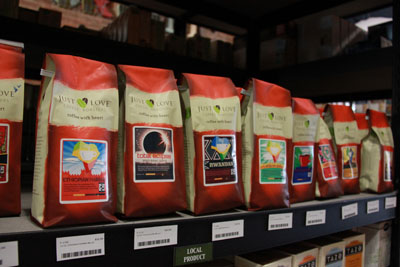 He and his two sisters put up the money to open the store, naming it after their grandfather Pa Bunk, or Paca Bunk as they called him. Bunk Grisham was a farmer his whole life, well known in Smith County, Tenn., for the food he grew and the apparently amazing honey he sold. Grisham and his wife Mamie Bell raised 10 children with a family credence that the best food comes from nature, a belief that carried into the next generation of the family.
Williams' passion for a healthier diet and lifestyle came about while serving in the army after graduating from MTSU. "When I was stationed in California, I learned about organics and began changing the way I looked at food, the amount I ate, what types of food I ate, and I started exercising more," he said.
Feeling healthier and having a better body do not simply happen overnight and certainly are not lasting effects brought by some pill, regardless of any messages you might receive from the media. Continuous healthy eating and regular exercise will never let you down and Pa Bunk's Natural Food & Café is providing a convenient place to purchase quality food. I'm not going to suggest how you should live your life, but at least you're aware that there is a central source in this city for healthy and locally produced food.
For more information on Pa Bunk's, visit pabunks.com and search for the store on Facebook.